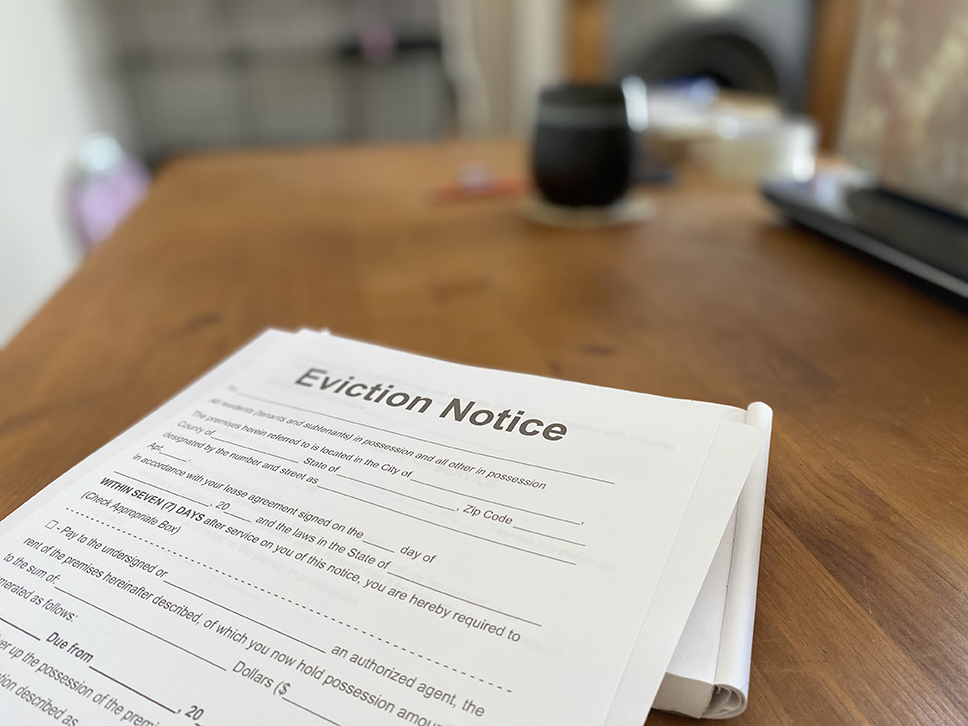 Great news. A big national-credit retailer wants a shopping-center space that's currently occupied by struggling mom-and-pop tenants who are barely hanging on in a lease-less, or "at will" basis. The timing seems right to issue these month-to-month occupants their proverbial walking papers and quickly shoo them off the premises to free up the square footage.
Perhaps. But landlords best be prudent, lest such deals get hung up in court. Landlords must still accord their lease-less boarders basic tenants rights before showing them the door. A notice to vacate is still required, among other legal requirements.
However, because there's no formal contract specifying otherwise, landlords need only issue such tenants the typical minimum 30-day notice, less in some states and up to 60 days in others, to quit, according to Stephen Michael White, CEO at RentPrep of Buffalo, New York, a commercial tenant-screening service. And no rationale need be given to evict at-will tenants, White added.
In addition, receipt of the eviction notice must be confirmed, so if landlords don't want to serve such tenants in person, mailing of the notice should be done by certified mail. The notice, following state or local law requirements, must typically state the tenant has to end its occupancy by a specific date of operation. A more expedient exception comes when an at-will tenant isn't paying the rent as agreed, in which case only a 14-day notice usually suffices.
In some instances, a landlord can unwittingly create a written rental agreement via email correspondence with an at-will tenant. Though such agreements are informal, a court may nevertheless find them to be a legally enforceable because they were put in print. Additionally, some jurisdictions this year enacted eviction moratoriums due to COVID-19, though many have expired at this writing.
There are several other legal gray areas to also ponder in the case of at-will tenant eviction, because some local and states laws are situational and subject to court interpretation. Most importantly, landlords must be careful not to break any laws while attempting to evict someone, at-will or not, said White. Actions such as shutting off tenant utilities, changing their locks or forcing them to leave without proper notice aren't legal and can result in judgments against landlords, he added. Non-lawful eviction reasons for commercial tenants include the occupants' racial, religious or familial orientations, their chronic health issues or a retaliation for complaints. Lawful reasons for tenant eviction typically include rent nonpayment, illicit drug use, property damage, health or safety violations, broken agreements, unpaid utility/common-area-maintenance payments, unauthorized pets and the owner moving into the property.
However, landlords must keep in mind that since at-will tenants have no definitive lease, there are no specific lease agreements that the tenant, in the eyes of the court, can actually violate other than rent nonpayment, damage to the property, disturbance of neighboring tenants or the introduction of health hazards to the property, according to Downers Grove, Il.-based O'Flaherty Law.
A tenant filing for bankruptcy can further muddy the waters. In such instances, an automatic stay is typically imposed on creditors, including landlords. Failure to grant such stays in pursuing eviction can lead to penalties and added legal costs, according to James Chen, director of trading and investing content at Investopedia.
Moreover, lessees can become at-will tenants -- also called tenants-at-sufferance -- by default in some cases, particularly when their rental agreements automatically convert them to month-to-month status when they stay past a lease-expiration date, according to business attorney Michelle Seidel, of the law-information website Legal Beagle. A written agreement, should it not specify an expiration date, generally creates a tenancy at will, she said.
Some landlords opt for a "cash for keys" flat-fee approach to avoid navigating the eviction legal system, enticing a tenant to exit faster and without complication. In cash-for-keys, a landlord simply pays a flat fee to tenants in exchange for their keys.
Sometimes there are other solutions to evictions. If a landlord needs an at-will tenant's space, and that business is a decent traffic generator, finding the tenant a different space there or at another center owned by the same landlord might be a wiser alternative, advisors say.
For a sublease tenant in an at-will property, the responsibility for a commercial lease is ultimately between the landlord and original master tenant, notes real estate attorney Manfred Sternberg, of Houston-based Manfred Sternberg and Associates. In most cases, a landlord must give consent to subletting, he said.
If there are pressing questions about at-will tenant rights or other tenant issues, landlords should always consult specific local and state laws, ideally through an attorney, White stressed.
Do you have an at-will lease you're in the process of ending? Looking for expanding retailers in your area to fill that space? Sign up for a no-obligation Retailsphere demo and see how we can help backfill your retail space with potential tenants.
This does not constitute legal advice. We recommend that you consult with legal counsel regarding any eviction process.