The process of lead nurturing can be one of the most rewarding aspects of any sales job, but especially in commercial real estate. By the time you have a signed lease in hand, You've had to search for prospects, built relationships, negotiation lease terms, execute a letter of intent, all before a signature is on the final contract. Prospecting and nurturing leads is really the only way your business grows.
But the process of lead nurturing can be a long and winding road in this business. It's easy to become overwhelmed with all of the tasks you need to get completed - and sometimes that means a hot lead could accidentally slips through the cracks. That's why as your business grows, it's important to look for tools to help simplify your prospecting and lead nurturing.
That's where Retailsphere can help. While there are many reasons we believe Retailsphere should be on your list of platforms, one feature that specifically helps with prospecting, nurturing, and closing more deals is our new Kanban View for your deal pipeline. For those asking, what is Kanban view, its a card-based view of your deals that allows you to quickly and easily see where your deals are within your prospecting and lead nurturing pipeline.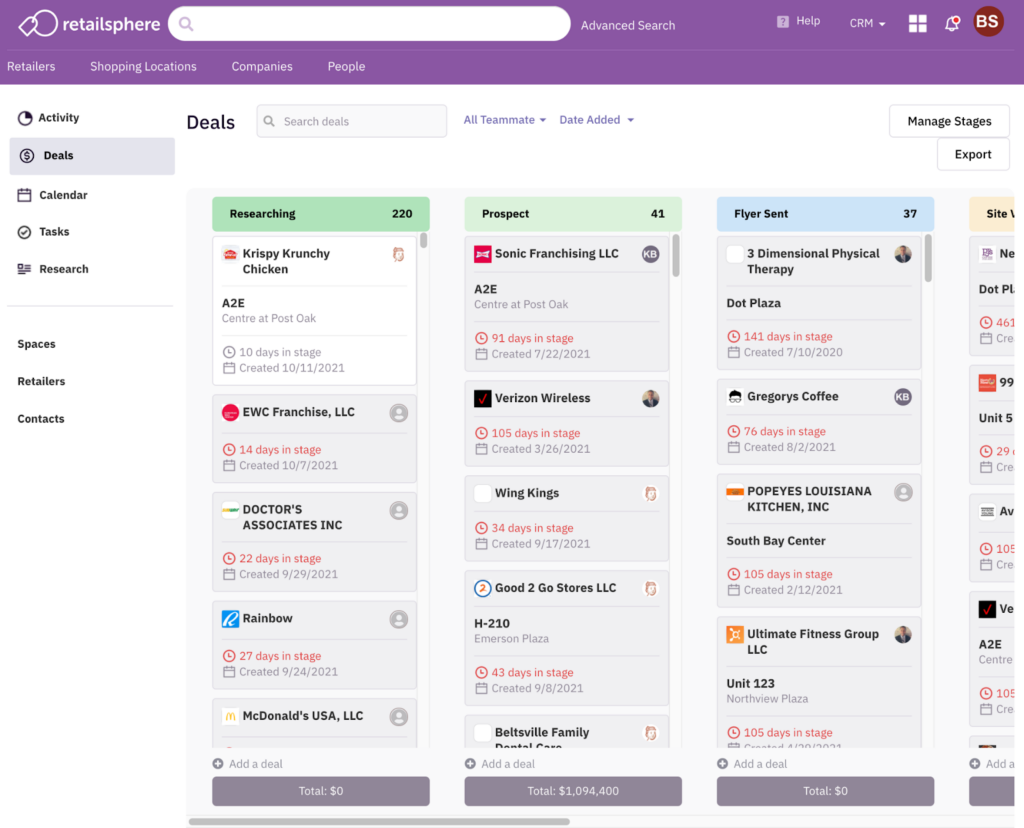 Lead nurturing requires many different steps, and commercial real estate has specific steps that other industries may not understand. Luckily, Retailsphere has been build for CRE and is flexible enough to accommodate all sorts of lead nurturing processes with the addition of custom phases.
In Kanban View, you can use our steps or add your own custom steps for the lead nurturing process. These steps live along the top of your newly created board. Once this step is complete, it's time to start adding leads to the board and placing them within the proper step of your pipeline. And just like that you have a visual representation of where various leads are in your pipeline.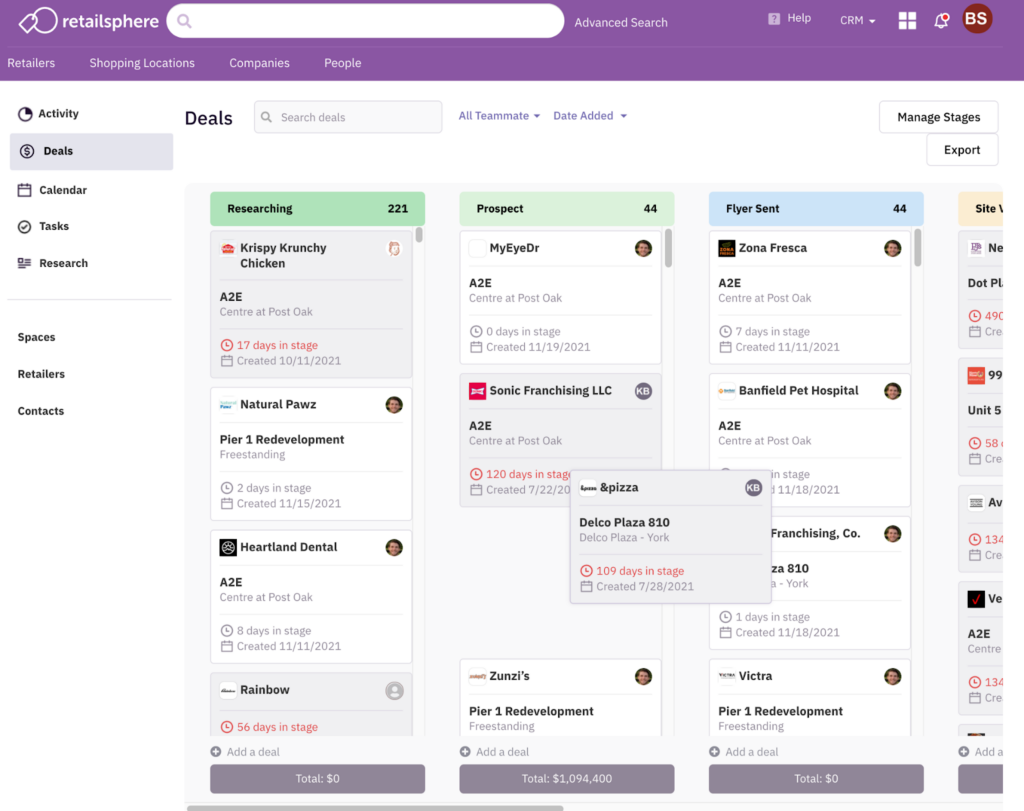 As a prospect keeps moving through your pipeline, all you have to do is drag the card to the next step. Want to add notes? Just click into the card and jot down important interactions or add documents. In the end, you can mark your prospect as won or lost so you can keep track of past opportunities.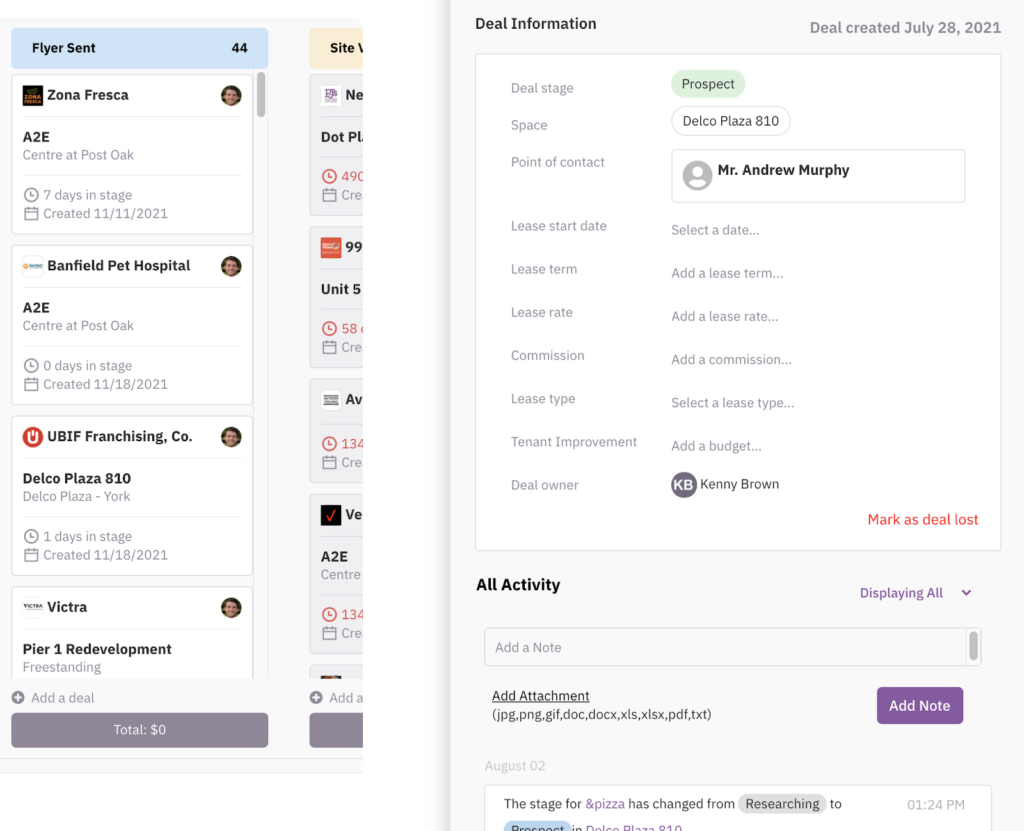 This all makes it possible to quickly assess which leads need a little more attention and which leads are close to coming to a close. Plus, you can easily assign team members directly within the Kanban view to ensure that leads keep moving along your pipeline.
Kanban view allows you and your team to stay on the same page and stay motivated when it comes to closing deals. Being able to see the various leads you've generated in their different steps along the deal-making process at a glance is a great way to keep everyone moving forward.
Retailsphere offers numerous ways to improve your CRE process with tools built from the ground up to help commercial real estate professionals get the most out of their business. Kanban view is just one way Retailsphere can help your team streamline processes and close more deals.