While guidelines around COVID-19 update almost daily, one fact has stood firm over the last 4+ months: people are staying home. Whether by government mandates, their own personal concerns, or just because options for outside activities are extremely limited, most people are working, schooling and interacting from the safety of their own houses. This has led to a major increase in grocery sales.
While take-out and delivery are options (and great ones for your existing tenants and their customers), even the least domestically inclined people are eating more home-cooked meals. The amount of downtime at home also translates into consuming more snack foods as well as nonperishable goods such as paper products and home cleaning supplies. And these are all things customers head straight to a grocery store to purchase—making grocery brands a perfect tenant for 2020 and beyond.
On top of that, many communities in the United States are known as food deserts, with shoppers relying on discount and dollar stores (totally devoid of fresh produce) for their groceries. This means there is an opportunity to fill a critical need in these communities.
Retailsphere can help you not only survey the area around you for competition but also find a grocery tenant that fits your marketplace and vacant space. Here's how: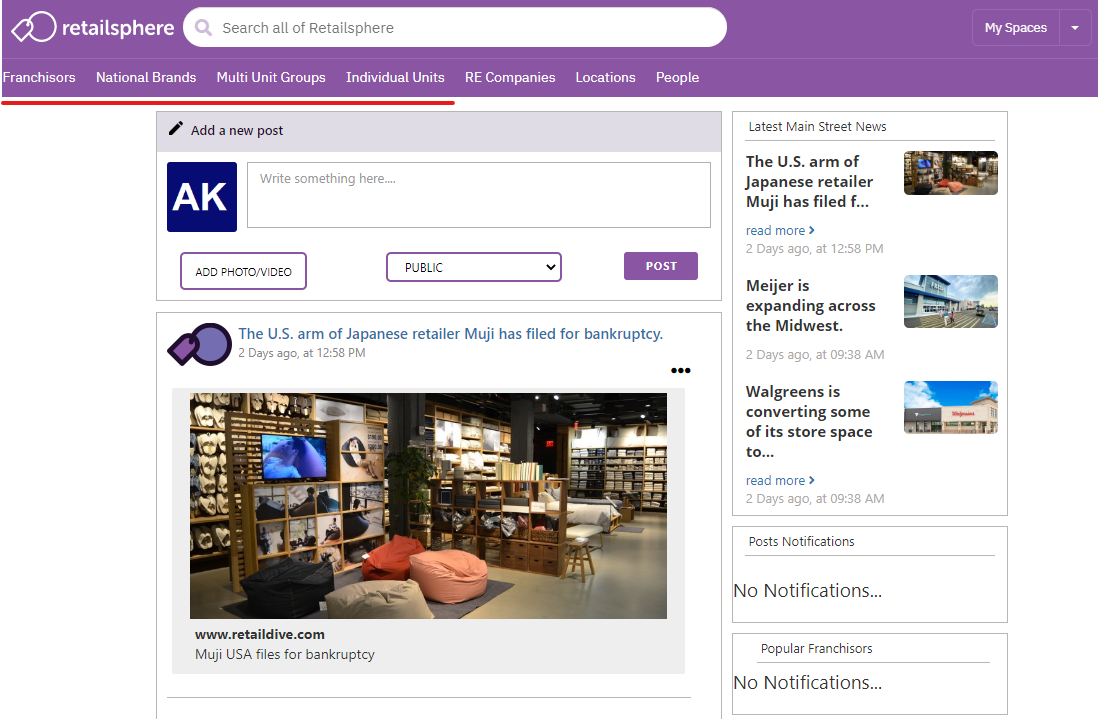 First, log-in to Retailsphere's retail tenant database. Under the search bar, choose "Franchisors," "Multi Unit Groups," or "National Brands" for popular brand results or "Individual Units" for local grocery stores. Looking for grassroots style stores may provide an opportunity to bring in a new and engaging food concept others have yet to tap in to in your area. Plus, it's as simple as submitting a research request with Retailsphere to gain the valuable insights into the brand so you can reach out with confidence.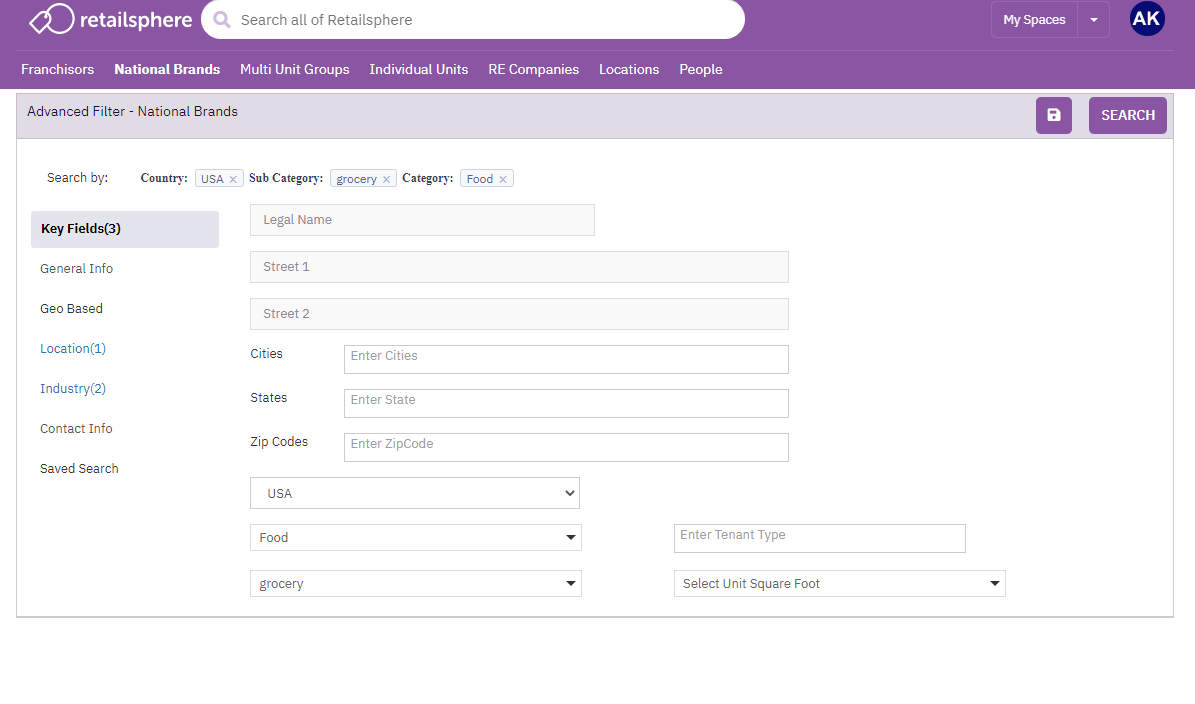 In the field marked "Category" choose "Food." You'll want to refine the search by choosing "Grocery" as your subcategory. Under "Select Unit Square Foot," choose the square footage range that matches your occupancy. If you're in a food desert, your search results may be very limited if you search by location. Leaving these fields open can help you find retailers that may be interested in expanding into your marketplace. Press search to see your results, or save the search for future reference.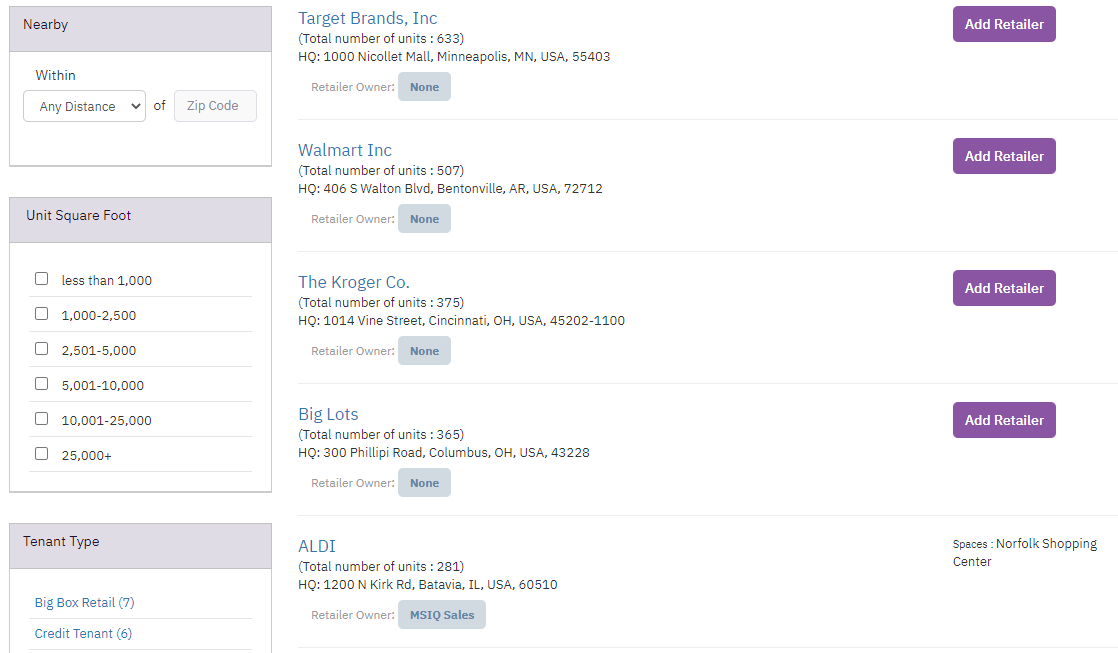 Retailsphere has information on brands of all sizes, from bulk warehouse stores like BJ's down to pocket-sized chains like Aldi. Use the options on the left side bar to define your search further, or click an option for a list of direct contacts, square footage requirements, and more. You can click "Add Retailer" to create a list to reference later.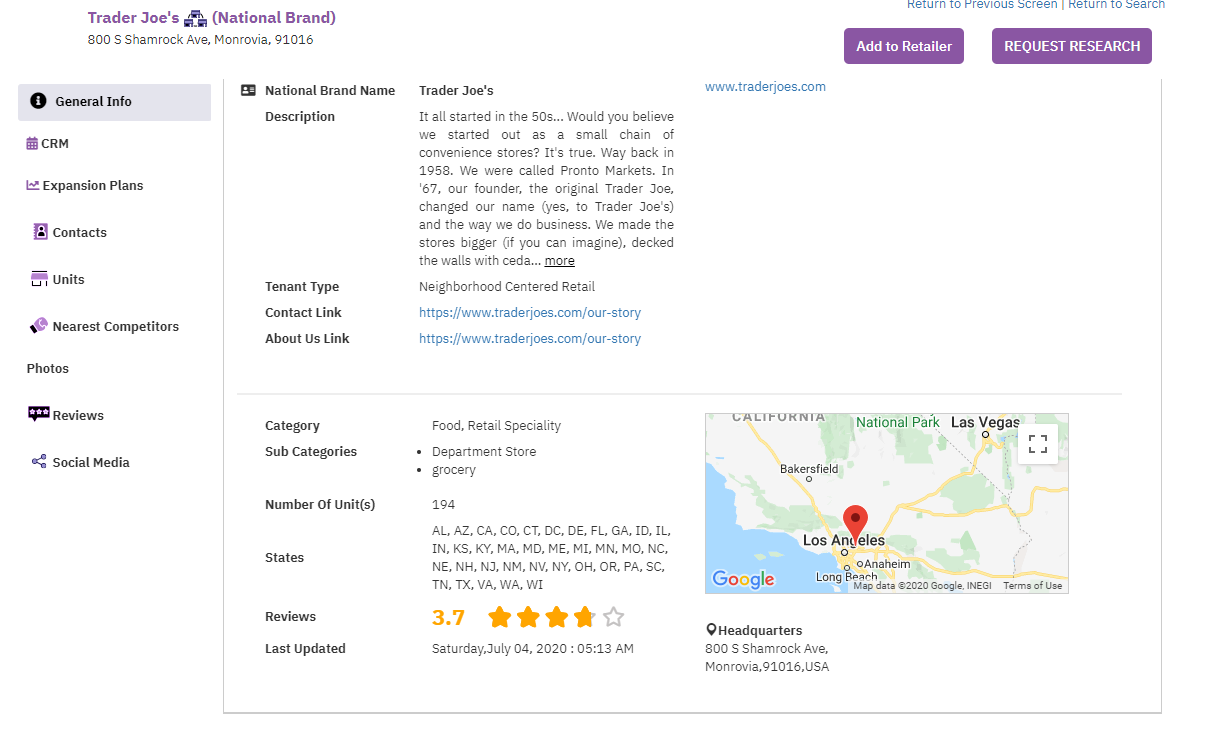 In addition to basic information, you can easily find more about a grocery chain's expansion plans, including their preferred demographics. You can also find detailed results like the money and time spent in the store by their average customer, which will assist in finding the right brands for your space.
Checking the map shows you all the locations for a specific grocery chain. You can zoom into your area to find out which options are present, or discover if your vacancies happen to be in an area where this retailer isn't present yet.
Grocery tenants guarantee a steady stream of shoppers. Whether on a weekly shopping trip, getting groceries delivered, or stopping in to pick-up a quick ready-made or cafe-style meal (which many grocery brands are well known for), the grocery store is often a multiple-times-a-week stop for most people.
And while your area may have its share of supermarkets, smaller brands draw in many customers because of their compact size—just because they make it so much easier to pop in and out. The boutique grocery industry has exploded, with brands such as Trader Joe's and Aldi going toe-to-toe with big name grocery chains.
Find the best tenant options for you using Retailsphere! Schedule your free demo today.