2020 challenged retail across the board and forced brands to pivot, stretch, and change in order to find new ways to connect with customers. With the new year, wise brands are not seeing the hope on the horizon as a signal to reset back to their old ways, but rather using their 2020 adaptations to propel themselves forward. As innovation goes, Nike, who plans a massive retail expansion, is always looking to stay ahead of the market.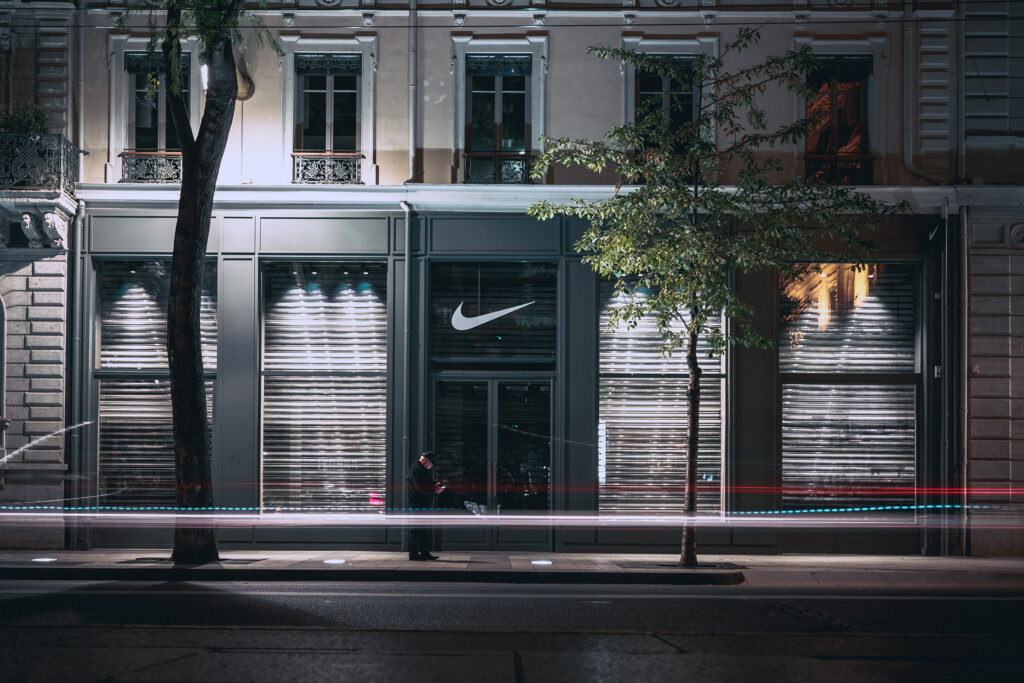 As an example of a brand that's bringing the learnings from the last year into the future, Nike recently announced a 30-store expansion to bring new retail opportunities, fresh perspective, and innovation. Their new stores ride the trend of tying brick-and-mortar stores to live and digital experiences for the local community.
Here are 3 things you can learn from Nike as well as other athletic brands on safely attracting shoppers and how to keep them coming back through exploration, discovery, and a healthy dose of fun.
Tap Into Local Flavor
Bringing local flavor to your average mass-market chain can bring a little warmth and a lot of heart. The Nike Unite retail stores display local maps and tips for things to do around the host city, as well as shout-outs to community sporting events and teams.
And Nike's community outreach isn't just for looks. They're also marrying stores with local brand ambassadors and connecting athletes of all levels through the Made to Play digital program.
Other athletic brands, like Lululemon, also weave community into their stores with local events. Community ambassadors lead classes in-store (or in open air spaces nearby) and breathe life into the brand's lifestyle. Examples like these make it clear that a local angle is an important element for brands that want to move into a successful future.
Throw Out the Cookie Cutter
Extending from this community focus are stores that come in all shapes and sizes, based on location.
Lululemon has been embracing this concept for a long time, opening everything from transient retail pop-up shops and small scale boutique stores to huge showrooms with in-store studios and cafes.
Nike is also testing a new store format by opening select members-only Nike Live stores. These stores limit access to loyalty members and provide special perks and access to the freshest merchandise. The best part? Membership is free, so the brand taps into a club-like feel without the exclusivity.
These innovations show that being open to a variety of formats is a boon for potential landlords because an experience tailored to the community is sure to bring customers back time and again.
Make it FUN
In-person shopping is veering more and more into creating an emotional response. Shoppers, who can easily purchase online, are looking for a connection and experience with a brand when they choose to visit in-person.
Nike is delivering this experience with innovations such as customization labs where shoppers can design sneakers down to the smallest of details, consults with employees on design, and a showroom of products shoppers can try on or try out.
Swedish sneaker brand On also recently shared plans for a new showroom featuring a tech-savvy floor that visitors run across to instantly have their gait analyzed, and some Lululemon stores now feature ZenPods where shoppers can stop to meditate.
All of these innovations speak to the need to ensure the in-person retail experience is just that—an experience.
While retail won't bounce back overnight, 2020 set the stage for a new wave of creative retail solutions that ignite the fire within brands and shoppers alike. If you'd like to learn more about athletic or other innovative brands expanding in your area, schedule your free Retailsphere demo today.