The pandemic struck a lighting bolt through many aspects of daily routine, notably the workplace. Masses of the workforce transitioned to working from home. Many realized the wonderful benefits of working from home: No more commute, business attire substituted with always comfortable attire, and less money spent buying lunches.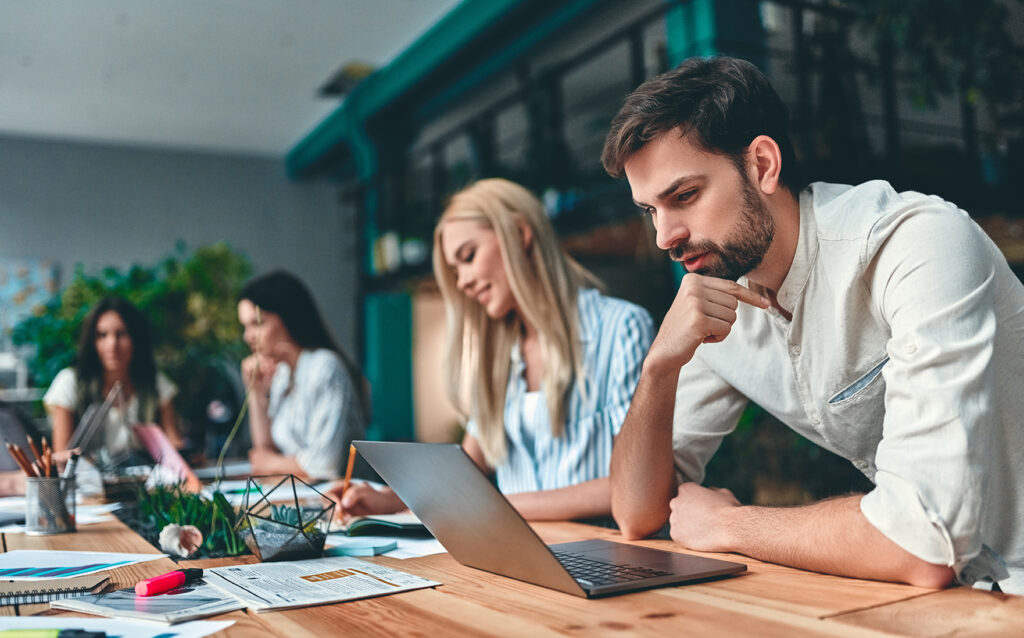 Coexisting with work-from-home doesn't free you from disadvantages of combining the home-office split. Distractions perhaps being the number one hindrance to productivity in the home office. Household chores are just an arm length away, children disrupt Zoom meetings, as well as the glaring absence of social interaction with coworkers. A designated office space apart from the millions of home distractions has become an absolute necessity for productivity.
Renting traditional office space may not be ideal, particularly for start ups or small businesses.
Office leases often require multi-year commitments, which a budding startup would outgrow before the lease is over. Additional costs such as office furniture, printers, copiers, internet, and a cleaning service create an even heavier complication to finding a traditional office space.
In a coworking space, the costs for rent, office furniture, amenities, etc are shared. The price for a membership varies, based on the needs of the business, building flexibility for future company growth. Coworking spaces typically only require month to month commitments, allowing for startups and small businesses to grow with their space and not feel bogged down by a long-term lease agreement.
Coworking space grants the benefits of a designated work space, separate from home distractions. A coworking office also provides a professional space to meet clients. The missing social aspect working alone from home is eliminated with the potential to rub shoulders (figuratively speaking) with other like-minded professionals, sparking creativity and productivity.
Cautious in a pandemic climate, coworking spaces are vigilant about sanitation. Abiding by social distancing practices and frequent cleanings, the coworking spaces must rely on a high bar of cleanliness. Most provide desk pads (similar to a paper place mat), cleaning kits in shared areas, such as lounge areas and conference rooms, and cleaning services rendered continually throughout the day. There is no room to be lazy in cleaning practices in a coworking environment, so every coworking space is hyper aware of any cleaning or sanitation issues.
Compared to a traditional office space, a coworking space is a small investment for businesses at every scale to access a modern workplace.
Lounge plans, coworking space plans, and private office plans allow for startups and large enterprises to find the right fit for them. Regus even has the option to reserve a desk by the hour, allowing a perfect spot for individuals who just need a few hours away from working at the dining table at home.
"All our workspaces are home to a dynamic mix of businesses. Work alongside like-minded individuals and collaborate with other businesses through our range of networking events. Be part of a vibrant, global community of 2.5 million professionals and create new opportunities for your business."
With an international spread of over 100 locations, Impact Hub goes beyond creating a coworking space. Centering their mission on mindfulness about global impact and curating a space for the dreamers and schemers to lead in problem-solving.
"We are one of the world's largest networks focused on building entrepreneurial communities for impact at scale — home to the innovators, the dreamers and the entrepreneurs who are creating tangible solutions to the world's most pressing issues."
Providing flexible workspaces for small, midsize, and large teams across major cities in 21 states, Industrious memberships are designed with all sizes and stages for any company.
"Complementing beautifully-designed spaces with a world-class experience, Industrious's shared workplaces provide a professional backdrop that brings out the best in your business."
WeWork is likely the first co-working space that comes to mind. Boasting over 800 locations worldwide, there is bound to be a location (or two) accessible to the majority of the professional workforce.
"Our 800+ locations offer you a workspace where and how you need it, whether your goal is to be closer to home, empower your distributed teams, or have a dedicated space to focus."
Is there a deadweight retail vacancy in your portfolio that could be transformed to a coworking space? Retailsphere conducts the research and delivers to you solutions to fill your space with a thriving tenant. Schedule your free, no obligation demo here.