A bookstore serving coffee or a wine bar selling books: a retail concept is maximizing book sales by adding beverages served in-house for a beautifully paired experience. Sometimes the unique way to fill a vacancy can be as simple as tapping into the creative side. Here are some creative retail concepts to fill your vacancies.
Existing physical bookstores have proven their worth over the years, competing with online retail, until a global pandemic shut the world down. Changed and challenged through this past year, brick and mortar bookstores have had to find very creative means to keep customers coming (at a distance).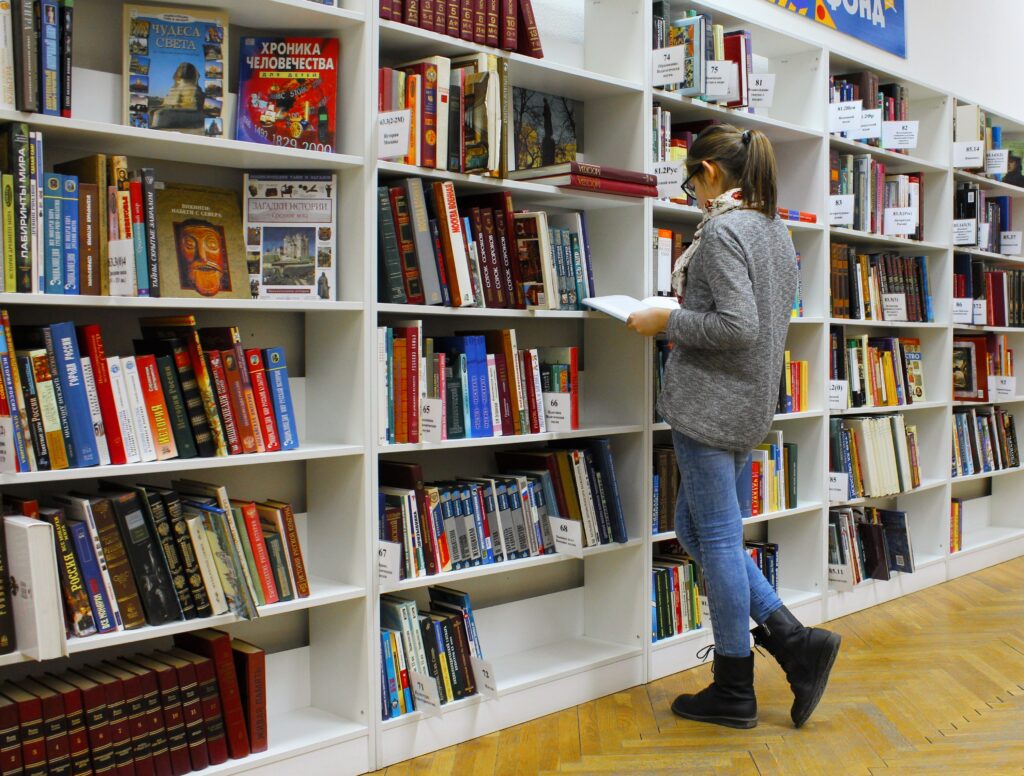 One way many have adapted to competing with online retailers is by offering something online cannot offer: food service. A coffee shop is a place to relax with a warm mug and read a good book. Bars are a gathering places for the socially starved. Combining a bookstore with coffee or wine offerings multiplies the uses and desire to gather in these locations.
Similar to a sports bar, a wine/coffee/book store is a mutual space for people with shared interests. A prosperous bookstore isn't going to try to collect every book under the sun. Good bookstores curate their collections through choosing books that fit into a collective interest. By being selective in collections, bookstores, bars or coffee shops can create a meeting place for a specific market, such as fandom, rare book collections, cultural ideologies and much more.
A bookstore housing coffee or wine might seem pretty typical or maybe very unusual. Populating the country by the dozens, bookstore/coffee/wine concepts are popping up for a lot of good reasons. Detailed below are some of the ways existing bookstores with coffee shops or wine bars are viable and effective together.
Event venue
Most retail stores wouldn't consider renting out store space for an event, but a bookstore doubling as a coffee shop or wine bar could be just the right event venue. For events that usually involve gifts (weddings, bridal or baby showers, birthdays, etc), guests could enjoy the refreshments served in-house while they browse for a gift (or just something for themselves). Author events, which are staple to bookstores, just got added refreshments. Congregated for regular meetings could be a book club's perfect spot. Imagine a day retreat for the company in a bookstore with artisan coffee or a glass of wine on hand. Poetry readings could be cohabit with wine tastings. The ideas to combine the concept of bookstore, coffee, and wine, are unceasing, wildly creative, and often, very successful.
One example of a bookstore serving wine by the glass and offering a private venue for events is Battery Park Book Exchange.
Off premises parties
For off-premise parties, bookstore operators don't need to worry about party goers getting tipsy over all the merchandise. Similar to catering a party, bookstores bring the best sellers and a few favorites and give a quick book review while allowing the partygoers to pick from the curated selection. It's a win-win situation for bookstore operators who don't have the space or desire to rent their space for events yet still give them the potential to make sales while the customers get a unique party concept, books to discuss, and wine or coffee to taste.
Here's an example of off premise parties offered by BusBoys and Poets
Date night… with a book
For book lovin' couples, date night at the bookstore and sampling wines or cozying up with a cup of coffee is the ideal date setting. For a solo date night (or just to spice things up), take a step into the unexplored and have a blind date with a book. All wrapped up in paper packaging, title unrevealed, is a book ready to be read all night long. The book may be a new love, or tossed after just a few minutes. The adventure is in the unknown. Capitalizing on book and wine sales, a bottle of wine could be added to the date, wrapped like the book, to extend the date night enjoyment.
See an example of a blind date with a book at Ada's
A gathering place for ideas
Bars and coffee shops already exist as gathering places for conversation. Supplement and complement the conversation with literature. Combining the social aspects of a bar or coffee house with the intellectual addition of good books, new ideas form and communities can flourish. The Wild Detectives in Dallas, Texas knew the power in combining a bar and bookstore when they joined their passion for books and booze in their own bookstore/bar. Since then, success has not only been afforded to their establishment, but to the concept of creating a space that becomes a meeting place for ideas and culture. Said well on their website, "We want our space to encourage people to have a drink and talk to one another, to open up and share ideas, to hang out smartly, to engage in a conversation that will open new realities for them." More than just combining books and booze, a bookstore/bar becomes a gathering place where knowledge and ideas can flow.
I highly recommend watching Javier Garcia del Moral, co-owner of The Wild Detectives, give a TED talk on why they added a bar to a bookstore.
Pairing books and wine
Commonly known are food and wine pairings. However, for a book/wine bar, book and wine pairings come more naturally. Essentially, book/wine bundles are a way to suggest books or wine customers may not have tried. Prominence is also given to the fact that some things just go well together, so why keep them apart? Often, book/wine bundles are also offered at a discount, increasing the probability of moving more product at a quicker pace.
BookBar in Denver is one example, offering book/bar bundles.
Bliss Books and Wine pairs specific wines with specific book titles.
Book and other subscriptions
Common to our modern age are subscriptions, available for just about any concept imaginable, including books and wine. Subscribers pay a monthly, flat rate fee and receive a new book and wine bottle. Local bookstores can offer curbside or in-store pick up for the regular monthly purchase or ship it out. Since books are a versatile gift, book subscriptions can be gifted to just about anyone. Story & Song bookstore has a BookHugs subscription to include little ones in the love of reading. All they need is something the child is interested in and your budget and they will lovingly pick and ship the book.
Another example of a book and wine subscription is Kramers.
Have you already imagined the empty space in your portfolio that would be perfect for a book/wine/coffee concept, but no clue how to find the right tenant? Researching all the existing concepts would take a considerable amount of time and not produce the results needed to actually fill the space. Retailsphere has already done the research and found retailers who are looking to expand. Your next productive step will be to set up a virtual meeting with a Retailsphere professional to guide you to your next retail tenant.