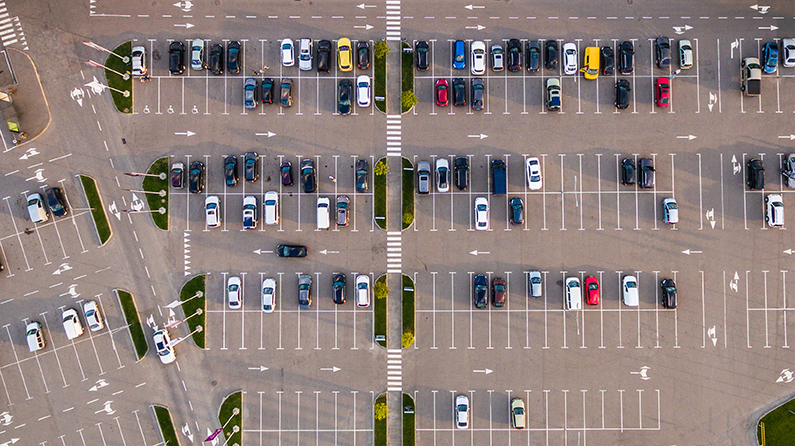 How often does a conversation about where to spend a day shopping, where to grab dinner, or where to head out for the night end in "Oh, but parking is a nightmare"?
Americans love their vehicles, owning roughly 1.8 cars per household, and griping about parking comes hand-in-hand with ownership. So what does that mean for your tenants? Does free parking mean more foot traffic? Should accessible parking equal an increase in rent? Does paid parking change the type of businesses you can attract? Let's dive in.    
All Parking Is Paid
In truth, there is no free parking. Depending on the type of business, a customer may park for several hours, taking up valuable space, and spend very little money. Landlords can offset the cost by building it into the tenant's rent, and just a few open spaces can warrant raising rent. While higher rent may equal increased prices for shoppers, the ease of parking often outweighs higher prices in the shopper's mind. In fact, research shows that convenience is a customer's top requirement when choosing where to frequent. 
Walkability vs. Parkability
Interestingly enough, indoor shopping malls almost always come equipped with massive (and free) parking lots or extensive garages. This, combined with climate control, seems like the perfect solution for happy shoppers. Instead, vacancies in malls across the country are rising. Many of them have been forced to close, as retailers move to more urban, walkable spaces. Even suburban retail giants like Target are opening small, streamlined stores in urban areas with limited parking.
While this signals that free parking does not magically bring in business, In the wake of COVID-19, curbside pick-up and quick parking is more important than ever when keeping brick-and-mortar businesses afloat. This bring parkability to the forefront as more people want the ease of pulling up and having someone drop their online order into their trunk or backseat.
Parking Perception
Worried that customers may become frustrated with parking, even when it's free? The Internet of Things has made parking a service, and by making it easy to find parking, you don't necessarily need to add lots of extra spaces, it's all about perception. 
With the power of today's tech, smart screens can advertise the number of spots left in a garage, and parking apps can even lead drivers directly to a vacancy. By boosting your parking lots or garages with tech, shoppers can easily find information that lessens stress and promotes a positive experience. These empty spots may have existed without the bells and whistles, but these techniques help shoppers feel like VIPs, giving the experience of valet without the expense. 
Is free parking the answer?
While there are perks to free and paid parking, your specific location and customer demographics make a huge difference in determining what's best for your space. It''s important to remember that making sure stores are as accessible as possible, whether that be paired with a free parking lot or nestled into a hyper-walkable urban neighborhood, makes them more attractive spaces for tenants and in turn can warrant higher rent rates. 
Do you have vacant space to fill? Do you have large free parking lots that cater to retailers like large big box brands or to-go restaurant concepts? Retailsphere can help you find the right fit. Sign up for a demo today and see how easy it can be to search for new potential brands that could help make your center a destination.