When you own a business, or run your own company, you know you'll have to wear a few hats. Running point on maintenance, bookkeeping, collections, marketing, and the general day-to-day work of putting out fires is just what you and your small team do to make things work. But working smarter, not harder, is key to not letting those fires overwhelm you. Learning tried-and-true methods helps you build a better business—and helps your tenants thrive.
In the past, one of those go-to tools may have been a broker who connects you with new tenants. But for someone used to a DIY approach, the cost of working with a broker can sting. However, heaping their duties on your own plate leaves you with tons of research and due diligence to do, on top of everything else already in your day.
Luckily, there's a middle ground! Here are 5 ways Retailsphere does the heavy lifting for you when filling vacancies with or without broker.

TAP IN TO RETAIL TRENDS
2020 brought huge shifts in the way people shop, and the demands continue to change. What are the latest regulations? Are certain types of businesses unexpectedly thriving? Keeping tabs on these things is important, but weeding out the important news from the fluff can be tough.

Retailsphere helps you monitor the latest industry news with an aggregate timeline of the latest reporting on market trends and data from the major sources. Beyond major media, you'll also find the latest from individual retailers—all updated and ready to explore—under the Research function.

TARGET EXPANDING BRANDS
Narrowing down your list of potential tenants is easy with Retailsphere's search capabilities. Your search can begin with a specific category or the square footage specifications of your vacancy.
However you choose to search, easy access to all the options helps you find what you need—quick. Tap into a wealth of local and regional brands, which often offer a unique draw over larger chains that may have already saturated the area. Within the Retailsphere platform, brands are also earmarked with an "Expanding" tag to make it easy for you to zero in on a potential fit.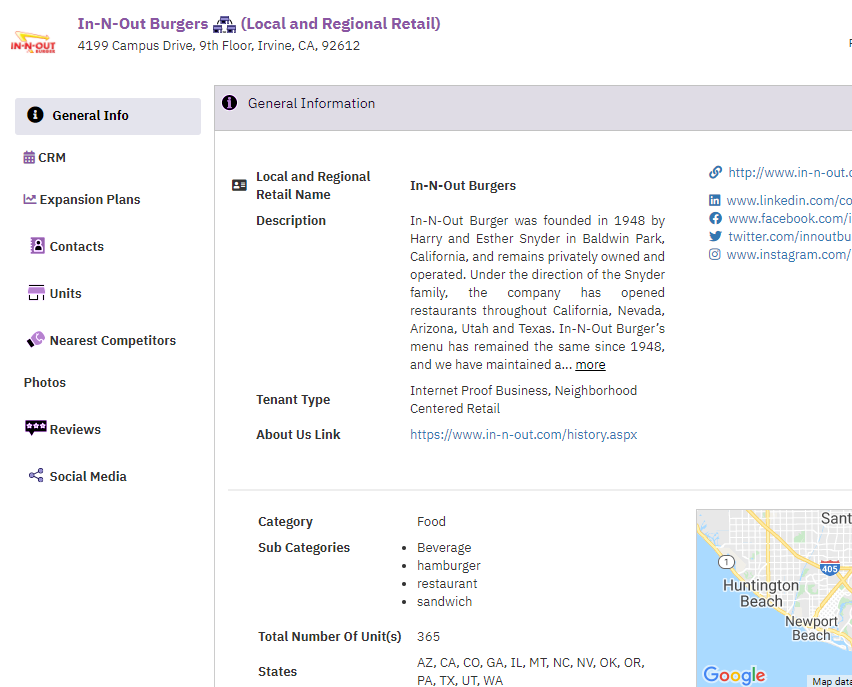 ACCESS KEY STATS AND SPECIFICATIONS
Doing homework on a brand's financial health, expansion plans, and building requirements can mean wading through annual reports, news articles, and press releases, which can easily leave you confused and overwhelmed. The information you need is often buried within long documents or excluded.
In Retailsphere, each retail profile provides all the insider information you need to research a brand thoroughly all in one place. You'll find details about planned expansion, including requirements around location, area demographics, and specifics around building size and specifications. You can also easily scan the list of current units and compare locations and other unique data for individual stores.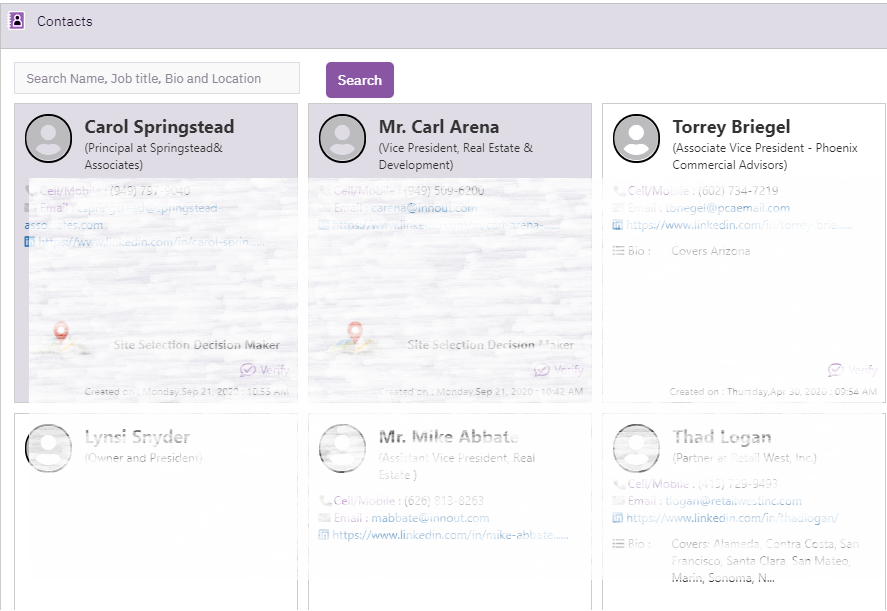 ACCESS COMPANY CONTACTS
Finding specific contact information and connecting with real decision makers can be arduous on your own. Email bounce-backs, phone number changes, and messages sent to the wrong employee can be frustrating for you and the retailer. But skipping the broker doesn't have to mean skimping on relationship building.
Retailsphere's database contains direct contacts at brands you're interested in—including notations on their role with the company and who makes site selection decisions. Armed with the brand requirements, you'll have all you need to successfully pitch your vacancy to the right people.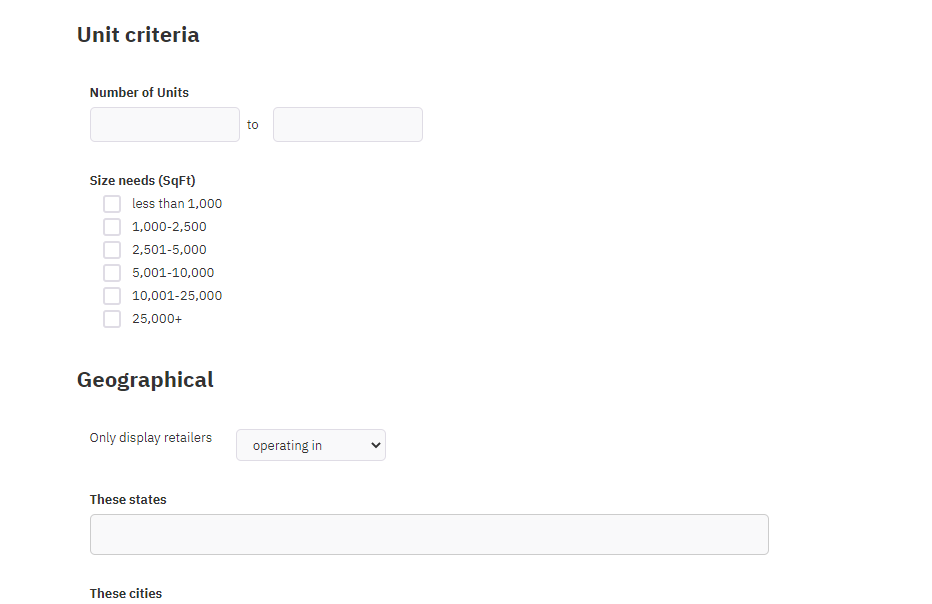 RESEARCH THE COMPETITION
No matter where you are located, knowing the types of tenants in competing spaces near you is crucial to your own location's success. Seeing what's thriving, what's oversaturated, and which key segments are being neglected can help you find the exact right fit for your own vacancies. But while competitors down the street matter, so do ones across town—and frequently even farther.
Searching with the Retailsphere platform allows you to hone in on exact locations, down to the zip code. You can also do broader market research based on size and categorical factors. In our platform, each unit has its own profile with a full list of tenants and vacancies so you can confidently find quality tenants without the expense of a broker.
Using the Retailsphere platform saves you time and makes searching for new tenants easy and accessible. If you'd like to see exactly how the platform functions for your specific needs, schedule your free demo today.