Covid-19 has created vacancies across the US as many large brands have gone bankrupt and started closing locations. This can be an opportunity to bring in new tenants who are growing by successfully drawing in audiences with experiences online shopping can't replace. As states start to allow retail outlets to open, customers are eager to do something fun after being cooped up inside for weeks on end. That could mean participating in new activities, getting a cocktail, or simply eating out at their favorite restaurant. Don't let your vacant spaces get left behind. Use this time to bring in new experiential retailers to cater to customers' desire for interactive experiences.
Experiential retail varies greatly and includes many different types of tenants. Salons, ice cream parlors, escape rooms, and more all find a home under this umbrella. But with so many options, how do you find the perfect fit? The difference in square footage, customer base, and facilities needed can vary greatly between a blow-dry bar and a trampoline park, for example.
Retailsphere can help you determine the right option. Using our database allows you to better strategize and target just the right experiences for your space and customers. It is as simple as starting your search by filtering between our pre-determined retailer categories: franchisors, national brands, multi-unit groups, and individual units. When you're looking for smaller experiential retail tenants, we recommend starting with "Multi Unit Groups."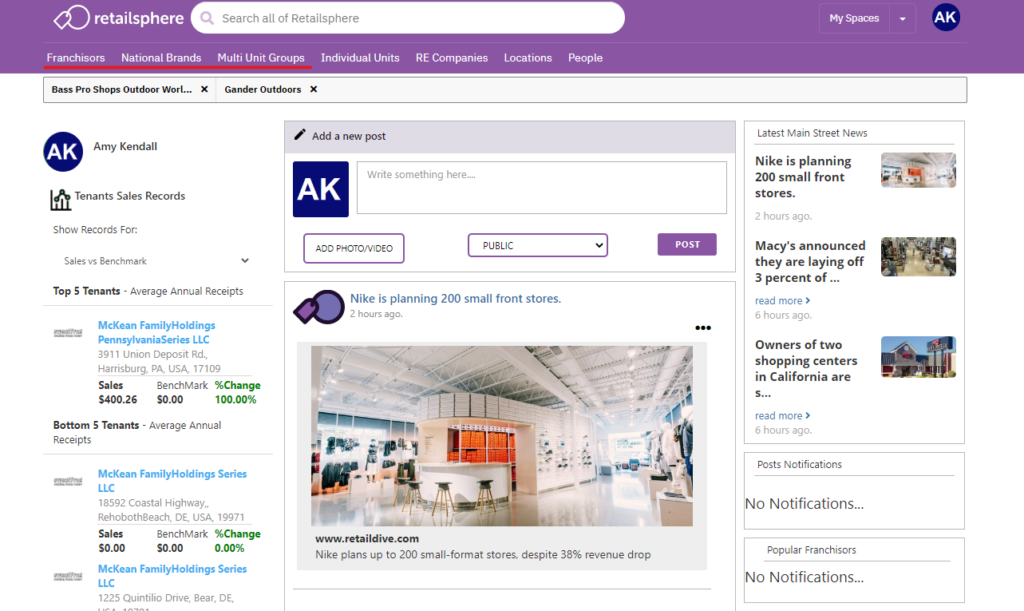 Then, in the field marked "Enter Tenant Type," choose "Experiential Retail." Retailsphere has done the hard work of filtering out non-experiential brands for you. Our team tags brands we've deemed 'experiential' into this category so you can quickly get to the data you need to determine if a retailer is right for you.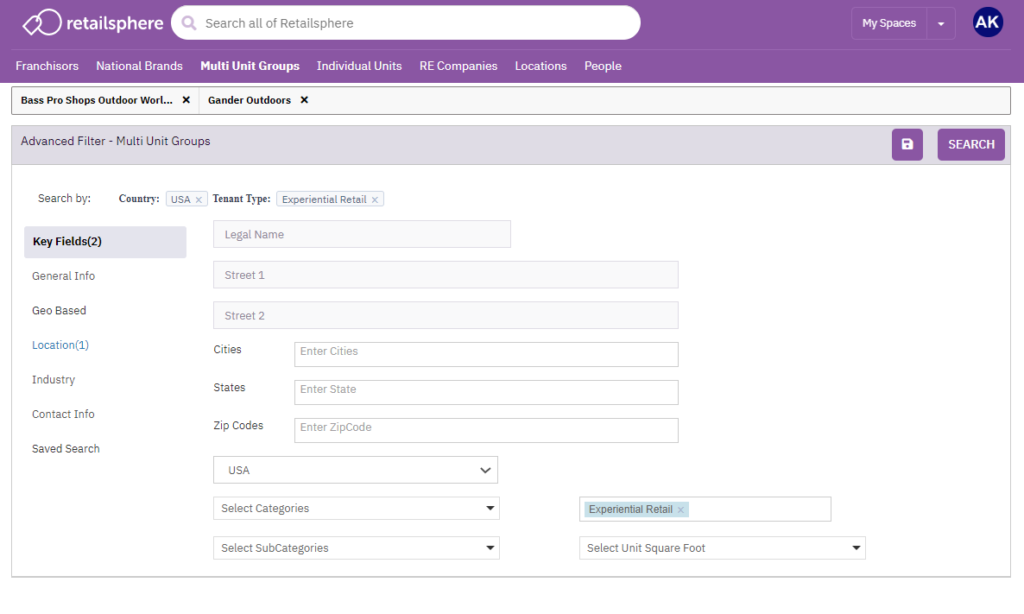 Additionally, select subcategories like "Entertainment" or "Beauty, Health & Fitness" to refine your search. Narrow your search by city, state, or zip code if you're looking specifically for local options. Under "Select Unit Square Foot," choose the square footage range that matches your vacant space. You can also choose to leave these fields open for broader initial results. Simply hit search, and Retailsphere delivers a list of brands that meet your predetermined requirements.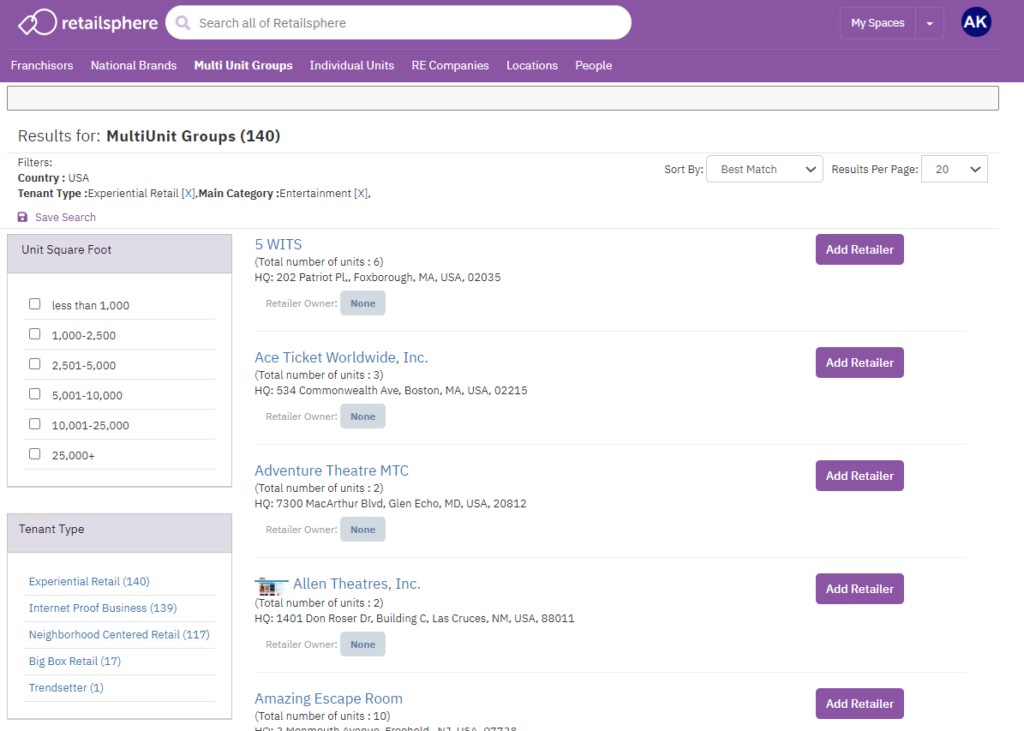 Clicking on one of the experiential brand's names will bring you to a detailed profile. You'll find a description of the business, a list of direct contacts, and other information you need to decide if this brand is a good fit—in just one click. In our example below - Amazing Escape Rooms - you now know if your center meets their location demographics and size requirements. When you reach out, you can be confident you're a good fit.
Alternatively, save them to your profile so you can compare against other tenant options later. Or submit a research request, and our team begins the outreach process, providing you with a custom in-depth report once we've connected with that brand.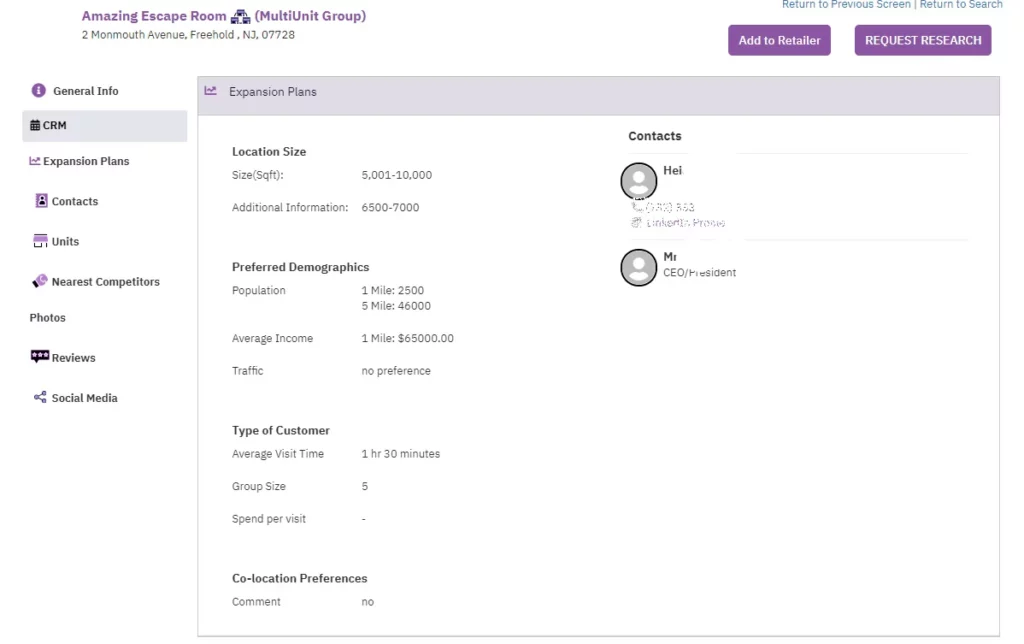 With Retailsphere, our goal is to improve and streamline your tenant search. If you're looking for destination brands that drive foot-traffic and help internet-proof your shopping centers, experiential retail tenants could be what you're looking for. Many of these types of experiential retailers are regional and local - brands you'll only find in the Retailsphere tenant database.
Our researchers are working constantly to provide the most up to date retailer information on all of our profiles, so you can see which brands are expanding, even as the Coronavirus pandemic continues to stretch on. Plus, there has never been a better time to bring in new tenants and improve your shopping center so you can be ready to make the most of customers as states reopen retail. Schedule you no-obligation demo today and see how simple your tenant search can be.