One of the side effects of the pandemic was a mountainous demand for bikes. The demand has yet to slow, keeping bike shops busy in retail and service repairs, suggesting a bike shop would be an ideal concept for a vacant retail space.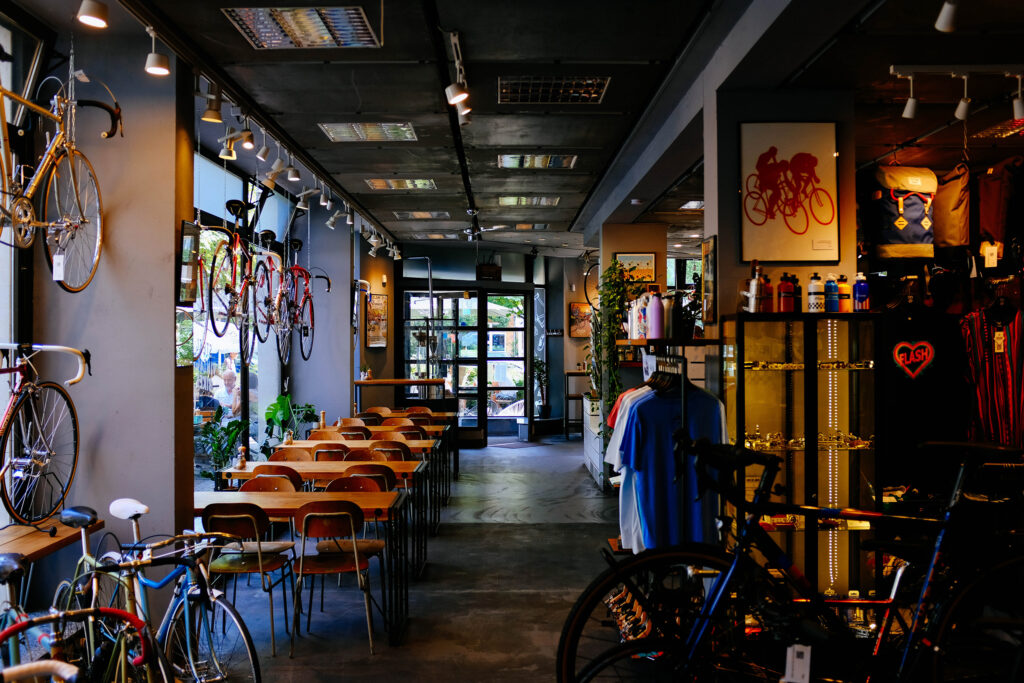 In the beginning of the pandemic, expectedly the toilet paper, hand sanitizer, and cleaning supplies flew off the shelves, but few expected bikes to be in low supply. Trapped in quarantine and a perpetual state of cabin fever, consumers got outdoors in a variety of ways. Hiking and biking were taken on by novices. Leery of public transportation, others chose bikes as the vehicle for transportation. As a result, bike shops' inventory dwindled. Bike experts believed the shortage would soften as weather grew colder and manufacturers increased production, but the shortage still remains. Some manufacturers have estimated the shortage to remain throughout 2021, even possibly lasting until 2022. Increasing demand for bikes is followed by demand for bike maintenance, keeping bike shops busy in the retail and service sectors. With new stimulus checks in hand and tax returns on the way, bike sales easily could continue to soar as consumers adapt to new normals.
A number of some of the best bike shops in the nation are listed below, offering top bike brands, wheeling out excellent service repairs, hosting scores of classes, and even combining bike shops to in-house cafes. Each business has more than one location, proving their popularity, including one bike shop that has been around for over a century.
The native Milanese owner took his passion for cycling and experience in fashion and design to open an eye appealing bicycle boutique shop in New York City. Locals may recognize the signature pink and sleek design in either the Union Street or Industry City locations. The two locations are not identical retail shops: Union Street is focused on the retail bike shop and fit studio while the Industry City location is a self serve bike shop with a relaxed vibe and in-house cafe. A number of the bikes found at Maglia Rosa are handmade in Italy, promising quality and aesthetically pleasing design.
Based in Folsom and El Dorado Hills in Northern California, Folsom Bike is the place for cyclists to find community and an impressive 1,000+ bikes to choose from. In tune to the needs of a female cyclist, Folsom Bike opened a section of the store dedicated to women's riders. Folsom is well-known for hosting the campaign "Proud to Ride Like a Girl" to celebrate and empower women and girl riders in a predominantly male sport. Recognizing the need for independence in bike repair, Folsom holds a free maintenance class once a month.
Hall Bicycle Company, set with two locations in Iowa (Cedar Rapids and Cedar Falls), has a very impressive 120+ year history. As one of the oldest continually running bicycle shops in the USA, this bike shop survived two world wars, The Great Depression, and 1918 flu pandemic, settling that our current pandemic was no match for this seasoned warrior bike shop. Here, one can build their dream bike and find their YouTube videos on basic repairs, such as "How To: Pump Your Bike Tires" and "How To: Fix a Flat Tire".
For serious cyclists, Motion Makers Bicycle Shop offers "Bike Fit". A full "Bike Fit" session, lasting up to three hours, involves an in depth interview, assessment, analysis, and fitting to pair individuals with the right bike for their needs. Also available are regularly scheduled clinics to learn pro tips on service and repairs in addition to riding classes. All three locations reside in North Carolina: Asheville, Cherokee, and Sylva.
Are you ready to get in gear and find a successful bike shop for your retail vacancy? Effective tenant searching begins with primed research gathered from Retailsphere professionals. Book 20 minutes to discuss your pain points and discover a tenant that is just right for your vacancy.