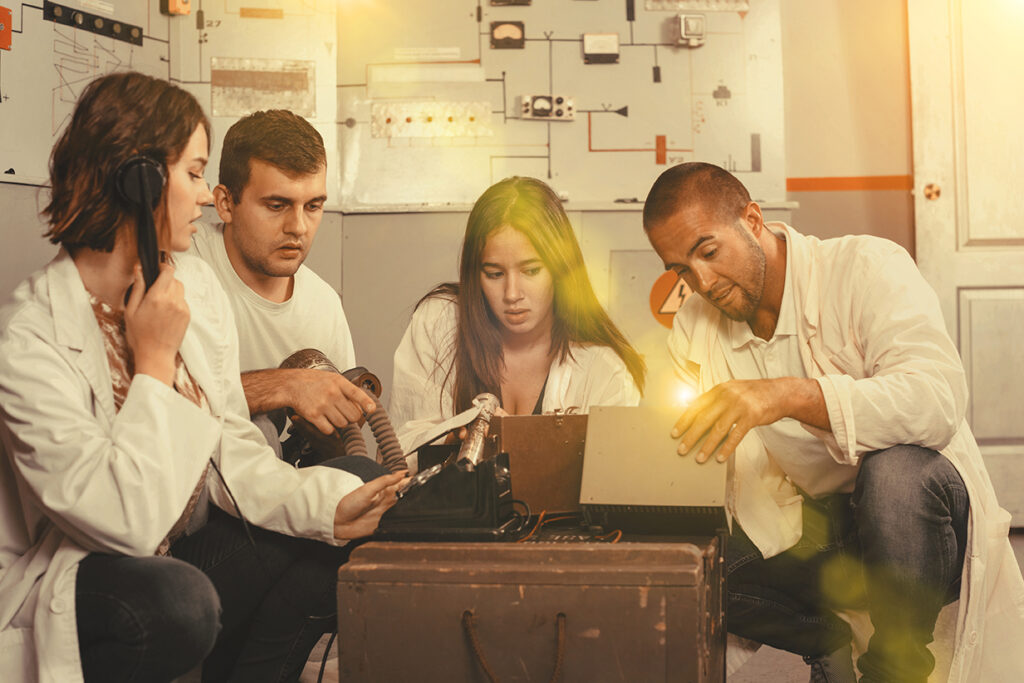 As we continue to pivot in the retail economy and see an influx in experiences. Consumers continue to become accustomed to pop up retail shops and are craving new experiences. One type of experience that is growing across the US and specifically in the Mid-Atlantic region is Escape Rooms.
Perfect for social gatherings, corporate team building activities, out of the box bonding for families, and birthday parties, Escape rooms are becoming the new go-to entertainment experience. As they experience an increase in popularity, here are the top 5 in the mid-Atlantic region you can visit to amplify your social gatherings.
Based in Frederick, Maryland, Clue IQ is all about IMMERSION. Frederick, Maryland is a place known mostly for its Civil War-era buildings that stand alongside specialty shops, museums, galleries, and theatres. Diversifying part of downtown Frederick with innovative entertainment, Clue IQ is situated in a fully renovated, old dry good grocer warehouse from the late 1870s. Standing out from your classic escape room experience, and ranked #1 in Fun & Games on Trip Advisor, Clue IQ teleports you into your themed room and that's what makes the experience different. Each room provides you with a specific objective that goes along with the story, with unique high-tech gaming and set design the game timers, hints and game master interactions are created with the highest immersive experience in mind. With three curated room themes of Blitzkrieg, Conspiracy, and Excalibur, this immersive experience is a guaranteed hit amongst all. A mobile experience built to be brought to your office or event, Ruloco Island, is curated as a perfect team-building and bonding experience to highlight communication, camaraderie and problem-solving.
Located in Garwood, New Jersey this premium real-life escape game experience challenges up to 8 players by working together to find clues, solve puzzles, and pick locks that will free them from the game room. The 400+ acre borough of Garwood had a little over 4,000 residents in the population in the last 2010 Census count, touting attractions in town like recreational parks, arboretums, and an observatory. Providing the perfect new entertainment to a smaller town, Escapology offers more than 4 different rooms ranging in difficulties, it is the perfect team-building exercise for families, friends, and co-workers, and social activity for those looking for something different than what the town has to offer.
Hyper focused on personalization and attention, Escape Room Level 6, gives you personal attention from the moment you enter into the facility. Designed and built to focus on more than fun and games, there's an interactive storyline for each room. Situated in Annville, Pennsylvania with a population of just under 5,000 this interactive but thought-provoking puzzle pieced experience is sure to get you thinking outside the box and inside the rooms. Part riddle, part scavenger hunt, part mystery, Escape Room Level 6 provides entertainment for residents looking to travel off the beaten path of parks and museums that the Annville community is touted to offer.
Rated the #1 escape room in New York City by Thrillist, groups of 2 to 10 can journey through history and sift through clues and puzzles as the clock ticks to defeat a Jailhouse Breakout or Haunted Hotel experience. Planted on the 3rd floor of 160 Broadway in New York City in the Financial District just blocks from Wall Street, the World Trade Center and the 9/11 Memorial and Museum, the escape room environment is created by innovative set designers who worked for haunted houses around NYC and famous Broadway shows. This escape room is sure to bring the thrill for first-timers and repeat escape room visitors alike. With three room experiences: Rikers 1932, Haunted Hotel and, Game of Gold - BrainXcape provides an immersive experience that utilizes your senses without jump scares but still terrifies you.
The first, and largest escape room experience in Delaware brings the best fun in town with each room enriched with treasure, mystery, and tradition. Located in the Shops of Graylyn center plaza, it provides ample free parking and space for parties and social gatherings. With neighboring businesses like restaurants and banking, Axxiom Escape room provides entertainment in the perfect location for those seeking to break up their day of errand running, to stop in for an impromptu mind-bender. Axxiom Escape rooms have specific escape plans featuring rooms like Criminal Capture - The Zodiac Killer, Pharaoh's Tomb, Sorcerer's Quest and more. You must use your grandiose imagination, clue finding skills, problem-solving and most important - teamwork in order to crack the codes to escape the rooms provided in these dynamic historical experiences.
Clearly, the Mid-Atlantic region has a growing number of escape rooms. Think an escape room would be a good fit for your shopping center or empty retail space? Find brands like the ones above using Retailsphere. Sign up for a no-obligation demo today to get started.