As we look to the future of retail commerce, shoppers are moving more to an online experience, yet a hybrid pivot of commerce is coming. That hybrid is bringing them back offline and into in-person experiences. That hybrid is emerging now, and it is the power of experiential businesses. Experiential business merges entertainment and technology with traditional shopping.
Experiential businesses give consumers hands-on experiences that weren't previously offered in retail atmospheres and are not offered online. There's a formula to make experiential businesses a hit: Interactiveness, originality, connectedness, unexpectedness, and reliability.
This hybrid is encouraging shoppers to move seamlessly between physical and digital retail, prioritizing engagement. Leading the pack in experiential retail convergence is Utah, and if you''e looking for some of the most abstract, new, and Instagram-worthy experiences, we've got you covered.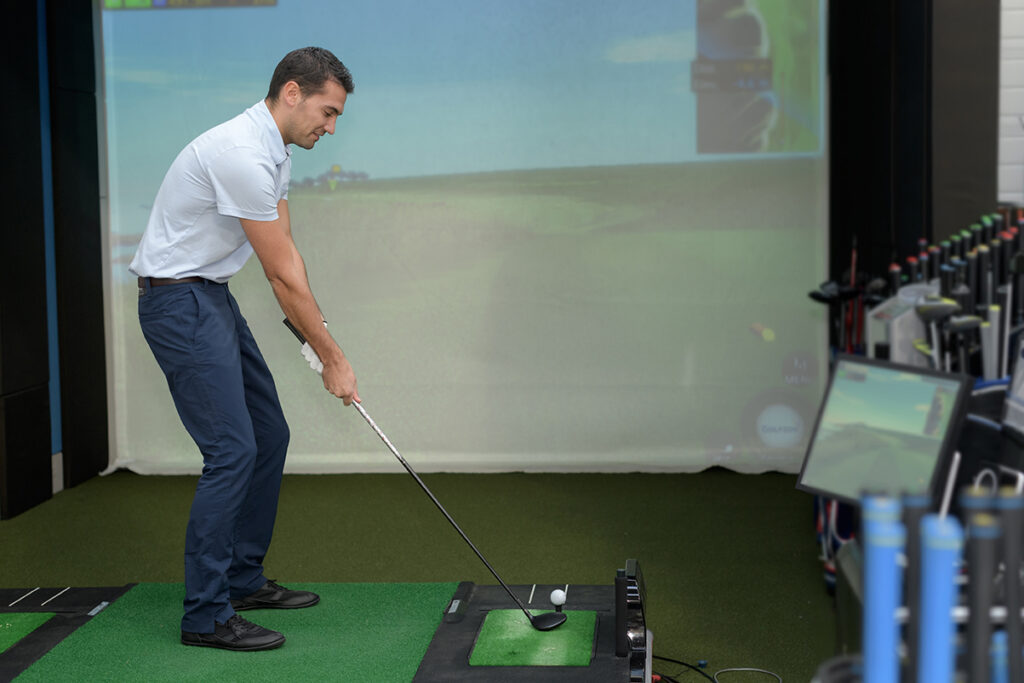 Utah is home to more than 75 golf courses around the state, but recently virtual golf has also taken a foothold. Just look at Anytime Golf in downtown Salt Lake City. Located to cater to the lunch time warrior who wants to hit a quick bucket of balls, their yearly membership is just $125. For that low price, you can use the space for up to 2 hours each day. Plus, the cold and snowy winters of Salt Lake City make it tough to hit the links. When you play at Golf Anytime, you never have to worry about being snowed out. They also host 18 hole tournaments, and other types of events to bring people into their space year-round.
Established in 2017 after browsing an estate sale in downtown Salt Lake City, Utah Vintage Rentals was born by falling in love with an 1800's Victorian rosewood settee. Inspired by her own elopement and missing out on the intricate details of wedding planning, including centerpiece decor, floral installations, and fancy decor; the couple began collecting charming vintage and specialty items to share with the world. Utah Vintage Rentals fills the gap by providing rental service to brides, and clients who want beautiful decor for their events. Based in American Fork, Utah Vintage Rentals includes modern styled rentals, bohemian rentals, rustic decor, Hollywood glam, and vintage decor rentals to style whatever your upcoming event may be. They provide an exquisite rental decor selection including hundreds of props, signs, and frames, seating, tables, pillows, and much more to choose from, as well as style and delivery services focused on enjoying your event. With an online showroom, they make it convenient to select the items you are interested in renting for your event, receive an online quote and have a seamless online to in-person retail experience.
Offering Mormon books, antique bibles from 1492-1899 AD, literary classics, historical artifacts, and fine art, Reid Moon is indeed offering a rare curated experience. Specializing in early Mormon books and documents that have contributed to Mormon and Utah history, Moon's Rare Books provide customers the opportunity to attend free monthly hosted lectures on the rare items as well as have personalized smaller groups seeing rare curated items of their choosing. Located in The Shops at Riverwoods in Provo, Utah, Moon's Rare Books is said to be a museum disguised as a bookshop. Surrounded by outdoor shopping, dining, and entertainment with a mountain backdrop, this location is premier for the book lover looking for an out-of-the-box retail experience. Half of the items on display at Moon's bookstore are for sale while the rest are part of a permanent museum collection. The store specializes in four main categories: Bibles, classics, high points in literature, early Mormon books and documents, and early American and European history.
Specializing in providing a niche photography experience, Kaci Lou Photography was established in 2017. Providing wedding, elopement, and underwater photography Kaci Lou gives photography experiences in small, outdoor destination weddings, adventure elopements, and underwater photography environments. The Utah based, traveling photographer presents a unique experience for all her clients from all over the southwest and beyond. She has photographed over 100 couples in 20 national parks with over 256k images delivered since starting her business. Not restricting her business to client-based photography business only, she also provides tools and resources for photographers that include workshops, portfolio reviews, mentoring as well as a quarterly Facebook Ad course.
Voted best weight loss resort in Utah in 2019, the 55,000 square foot sprawling space is the perfect setting for clients to get into shape. Unite Fitness Retreat, home-based at the Courtyard Marriott Hotel in Salt Lake City, Utah is a boutique weight loss camp experience aimed at providing a total life reset. The retreat is located at the base of Wasatch Mountain Range, where at the Marriott, clients have access to private guest rooms, eat chef-prepared meals together in a private dining area with mountain views, work out with the best training equipment to date, with high-end amenities and private fitness rooms that promote lifestyle changing habits. The experience provides private meeting space, life coaching, yoga classes, a spa, and unlimited recreational activities. With the perfect urban and nature mix, Unite Fitness Retreat promises the most effective live-in weight loss camp experience for adults.
People are always eager for new types of experiences, and are willing to go out of their way to find them. Are you looking to fill vacant space with a tenant who caters to these unique experiences? Retailsphere can help you identify and reach out to these new internet-proof types of retailers. Schedule a demo today to see how we make your retailer search simpler than ever.