Pre-COVID, grab and go options were a necessity in the typical daily grind. In the midst of COVID, grab and go became essential for other reasons. Restrictions on dining in and avoiding a crowd has left us with delivery or to grab and go. Local grab and go options include unbeatable quality, diversity, and local pride that many national fast food brands lack.We've looked at 5 of the largest metropolitan areas in the Mid-Atlantic and selected our top pick for grab and go restaurant in that area. And since picking one grab and go friendly restaurant per metropolitan area was next to impossible, we've included an honorable mention in addition to each of the Top 5 Grab and Go Concepts for the Mid-Atlantic.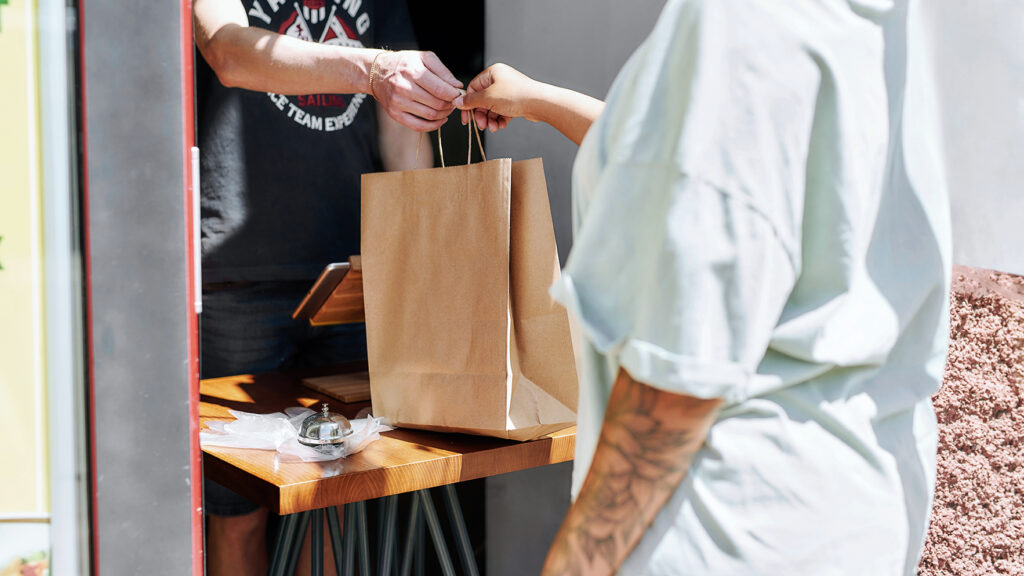 Top New York City Grab and Go Concept : Vodega
All vegan, plant based veggie bodega, Vodega, takes the vegan cake. No, it's not all salads. Vegans and non vegans alike, say hello to Vodega sandwiches. Who said vegan food couldn't look heck-a-tempting to non vegans? 
Located in Brooklyn, this spot is a must try for a refreshing grab and go meal. Vodega has embraced the simplicity during the pandemic by offering a minimalistic menu online for deliveries.
Honorable mention: Summer Salt
Top Philadelphia Grab and Go Concept : Middle Child
Middle Child's signature Breakfast Sandwich is a perfect choice to settle that morning appetite to grab, go, and be full all morning. Check back for lunch because one scroll through their sandwich menu will leave you salivating for more. 
To make sure their customers are able to have full access to food, they ask diners to order online, and either grab and go or ask about delivery.
Honorable mention: Sampan
Top Washington D.C. Grab and Go Concept: Shouk
Shouk: Modern, Isreali street food that is chik chak (Hebrew slang for quick and easy). Did I also mention it is all plant-based and kosher? The grab and go concept at Shouk pronounces in the form of your choice, either a pita or a bowl. 
If the two Shouk locations are not in your neighborhood, Shouk provides hood drops. Check out the hood drop locations posted weekly on their website and have your order delivered near you.
Honorable mention: Immigrant Food
Top Baltimore Grab and Go Concept: Golden West Cafe
Golden West Cafe is the whole package when it comes to grab and go options. Serving Southwest inspired comfort food including sandwiches, burgers, burritos, and a pre made panini box lunch. Tons of vegan options. A grab and go that is Instagram worthy. 
Golden West has continued to thrive by hosting socially distanced events, like Vegan Restaurant Week and Curbside Drag Bingo.
Honorable mention: Annoula's Greek Kitchen
Top Virginia Beach Grab and Go Concept: Aloha Snacks
Aloha Snacks: If your idea of a snack is a full menu of aloha-inspired burgers, sammies, wraps, and poke bowls, you have arrived at snack heaven. I can't think of another perfect grab and go option in Virginia Beach that allows you to take your beach cruiser through the pick up line.
The owner, Jesse Wykle, translated his 19 years of fine dining experience to a fast casual environment. Aloha Snacks pre-COVID pumped about 80% inside dining and 20% through the pick up window. They flipped those numbers in the midst of the pandemic to 80% via pick up window and 20% inside dining with social distancing.
Honorable Mention: The Green Cat Juice Bar & Market
Are you looking to fill a vacancy in the Mid-Atlantic? Are you interested in bringing one of these grab and go concepts to your shopping center? With Retailsphere, you can research and reach out to these and other restaurant concepts in your area. Sign up for a no-obligation demo today and see how simple finding data and site selector contact information can be.