Ramen, Japanese for "pulled noodles," is still called Chuka Soba in some dining spaces. But by any other name, those delicate wheat-flour noodles served in long-simmering broth, are still...delicious. Japanese ramen restaurants began taking North America by storm in the past half decade, opening on the coasts and now working their way inland. But the category is barely out of its infancy so big opportunities remain for developers to sign one of the many slurp-worthy Japanese soup concepts before a competing center does. Your customers will certainly be saying "Arigato" (gratitude). Here are five on-the-grow ramen concepts to take into consideration.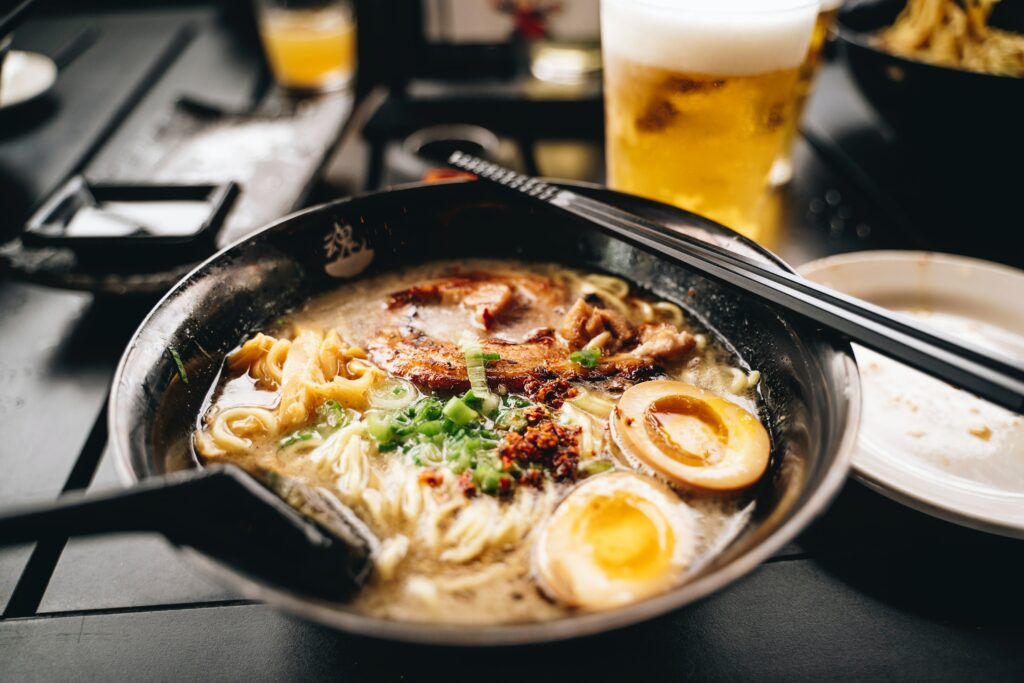 Ippudo is known worldwide for its authentic pork-based Tonkotsu ramen, which utilizes a thin noodle with low water content to complement a creamy pork broth that's brewed to perfection for 18 hours. Born in Tokyo and expanding rapidly with the backing of partner Panda Restaurant Group, Ippudo also offers gluten-free, vegetarian and vegan options. The chain plans up to 300 new restaurants internationally by 2025, many in the U.S. The average check at Ippudo, which attracts a relatively young customer base, averages $20 per person. Space needs range from a modest 2,200 square feet to a capacious 4,700 square feet, such as Ippudo's San Francisco outpost.
Ramen is really about the broth (okay, the noodles too) at Jinya Ramen Bar. Jinya combines chicken, pork bones or veggies with a deft balance of bonito, dashi and other authentic ingredients for rich, full-flavored and healthy broths. Noodles thick and thin are made fresh daily then aged three days to maximize flavor. The Japanese practice of "kaizen," or continuous improvement, has Jinya constantly honing its craft and creating new flavor combos for its signature build-your-own bowls. The chain has 35-plus U.S and Canadian locales, both dine-in and takeout, with dozens more planned. Full restaurants run 2,800-3,400 square feet.
Born in Japan, Hokkaido Ramen Santouka opened its first U.S. eatery in Bellevue, Washington, in 2014, and has expanded to 17 U.S. spots with multiple restaurants in California and locations in New Jersey, Chicago, Boston, Dallas and Honolulu, plus five in Canada. Hokkaido serves varied ramen broth flavors including shoyu (soy sauce), shio (salt) and miso. Bowls of wavy noodles are topped with dried fish, kelp, pickled red plums and kelp. Its signature dish is the rich Toroniku bowl with savory broth and noodles served with melt-in-your-mouth sides of roasted pork. Hokkaido seeks spaces of about 2,000 square feet and smaller food-court sites.
Kizuki Ramen dishes are fashioned similar to the way the French finesse their consommé. Kizuki roasts it meat bones before boiling them, yielding a fragrant, flavor-laden broth. Offering 10 or so different broths, including garlic Tonkotsu, meals are complemented by 15 different toppings, Kizuki's strives to serve the best traditional ramen meals that diners can buy without flying to Japan. The expanding chain has 11 U.S. locations, in Oregon, Washington, Illinois and Indiana. For centers with a yen for Kizuki Ramen, restaurants typically occupy 2,000 to 2,500 square feet.
Notable noodles: Ivan Orkin has won diners' and critics' hearts with his two New York City shops bearing his distinctive brand, Ivan Ramen, which is partnering with Corlex Capital to roll out a ramen empire of up to 100 worldwide locations in the next five years. Orkin, as seen on Netflix's Chef's Table show, offers such signature dishes as his triple-pork/triple-garlic mazemen, comprised of crispy garlic, pork chashu in a deeply flavored pork sauce with thick rye noodles. Restaurant formats and sizes are to be determined though Orkin's two NYC outposts include one sit-down and one take-out format.
At this point, we imagine you're as hungry for a bowl of ramen as we are. That's just one more reason to use Retailsphere to find local ramen concepts to bring to your vacant retail space. It may be one of our "top 5" above, or could be something unique to your region. Either way, schedule your Retailsphere demo and see how easy it is to find ramen brands like the ones above.