Whether you are backfilling a vacant big box, or attempting to lease up your just-opened regional lifestyle center, finding and securing the right tenant for your space can be a challenging process.
Specifically, the desire to attract franchises to your shopping center once required a great deal of research and legwork to gather enough information on which to make profitable decisions. Not anymore. Retailsphere gives you access to actionable, in-depth, and up-to-date data on this popular retailer segment.
Chances are good you'll be involved with two entities: a franchiser and a franchisee. Our platform looks at both of them independently.
The franchisors. These regional, state, national or international entities own trademarks, operating systems and brands. Franchisors rely on independent business owners for expansion and increasing market share at a relatively low per-unit cost. It's important to understand any requirements they have for the spaces their brand occupies.
The franchisees. These independent business owners are the boots-on-the-ground operators that will physically occupy your space. This is typically who will hold your lease. Depending on their relationships with the franchisors, franchisees pay up-front fees and/or per-sale royalties, in exchange for training, marketing assistance and event help with real estate leasing.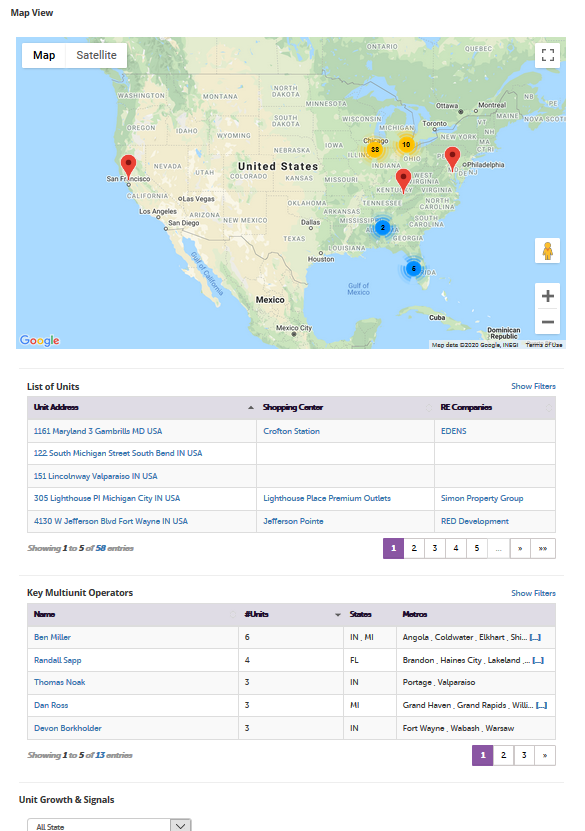 Ensuring whether a franchise retailer is a good fit for your property could require an analysis of both of these entities. Luckily, Retailsphere provides information on the corporate franchise, the franchisees, and even their individual units in your area. The end result is detailed intelligence that can guide you to the right tenant, while also supporting your lease negotiation and tenant placement efforts.
But how is Retailsphere's data different than other retail databases? There is more to providing comprehensive retail data than a cursory search and providing links to public information around the web. To ensure development and follow-through of actionable leads, a brand's data must be comprehensive, current and convenient. Retailsphere checks all three of these boxes.
Comprehensive Data
Comprehensive data tells the complete story of your targeted franchise tenant, as well as the industry and markets in which it currently operates. Some of the information you'll find on Retailsphere's platform includes:
Headquarters Contact Information
Financial Information
Ownership Structure
Suggested Real Estate Square Footage
Expansion Plans
Initial and Royalty Fees
Unit(s) Owner Contact Information
Unit Locations
Market Competition (Same Industry)
Market Franchisees (Different Industries)
Social Media Feeds/Reviews
Temporal Sentiment Analysis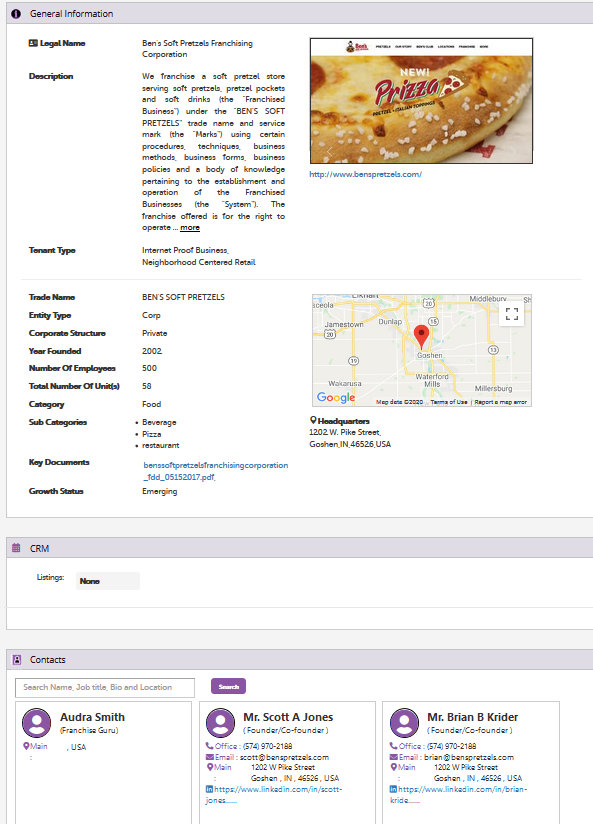 If, for example, you want to find a pretzel retailer to fill a 2,500-square-foot space in your lifestyle center, Retailsphere allows you to contact both franchisor headquarters and area unit operators, while also providing you with viable financial information, area and industry competition statistics, and even how consumers feel about the retail brand. This and other material put you in a stronger negotiating position, as you contact, and establish a relationship, with the franchisors and franchisees.
And, if you need additional information, you can easily submit a Retailsphere Request Research and let our highly trained team of researchers gather more in-depth data.
Current Data
In your search for the ideal pretzel retail operator, you can certainly look into open-source franchise information, corporate data and even government reports, as well as tapping into local demographics and competition metrics. You would also be spending a great deal of time on the process, with the end result likely being stale, out-of-date information.
Retailsphere uses some of these open sources of information to get our research started. Through Web scrapers and crawlers, Retailsphere's software continuously scans open documents, corporate websites and other locations to find and gather recent statistics and info, which is then updated, in real time, on the Retailsphere database by the research team who speaks directly to the site selectors.
We also use the following methods to give you the most up-to-date intel available: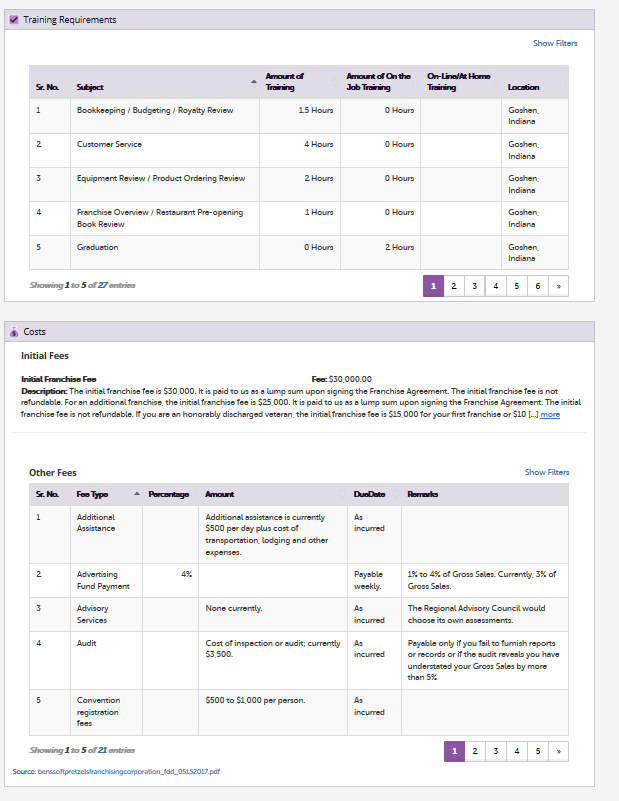 API connections. Retailsphere taps into feeds of retailer data around the web that feed directly into our profiles. Any time these feeds are updated, so are the Retailsphere brand profiles.
Crowdsourced information. The Retailsphere platform encourages local franchisors, franchisees, brokers, owners and others to update existing information on a regular basis. This "on-the-ground" system provides a higher degree of accuracy on the available data.
On-site researchers. Technology is great for information-gathering. There are also times during which picking up the phone is the best way to obtain current metrics. The job of Retailsphere's highly trained researchers is to maintain regular contact with, and obtain the most up-to-date data from, franchisees and franchisors.
Curious to know when this franchisor or franchisee has been updated? Each information block inside of the Retailsphere platform is time and date stamped for the most recent content update.
Convenient Data
All of this available data won't do you much good, if you can't easily access or analyze it. Retailsphere's user-friendly interface is easy to navigate, allowing you the ability to quickly browse, find and store the data you need.
And, once you've begun to contact potential tenants, such as the above-mentioned pretzel retailers, the Retailsphere data, as well as your actions, can seamlessly be plugged into a customer relationship management system, complete with a timeline and note-adding abilities. The information can be extrapolated into visual formats as well, providing quick overviews and analyses for reports.
Data and Decision-Making
In-depth data is essential when it comes to targeting the right tenant, one that will ultimately improve your retail property's bottom line. Though finding and negotiating with franchise-format renters can present challenges, using Retailsphere's system and methodology guarantees access to the specific information you need for smart decision-making. Additionally, relying on Retailsphere for granular information frees up your other resources, which can then be used to help boost other activities involving the successful operations of your retail assets.
Retailsphere has all the data you need -- and more -- to conduct in-depth research into franchisors and franchisees in all industries. Unlike other retailer databases, our team works tirelessly throughout the year to make sure information is accurate and up to date. Through
Sign up today for your no-obligation demo to find out how Retailsphere can help you track down the right franchise tenants for your space.